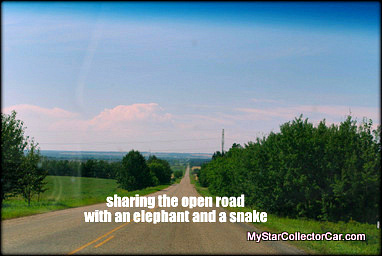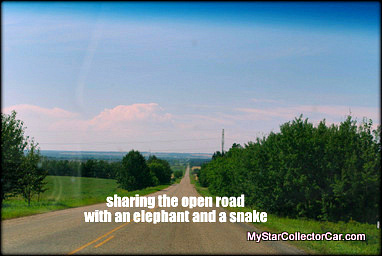 Last week's MSCC Star of the Week was a very rare visitor to the road in 2012 because it was an original 1966 Dodge Coronet that had the Hemi option checked off on its build sheet.
We already discussed how impressive the sight of a legendary Hemi on the highway is to any car guy with a pulse.
Most of these cars now live in confinement because they have such an incredible investment value and the owners have to protect their investment.
To see an original 426 Elephant unleashed on a highway is a sight that does not come our way very often these days, so we took note of the experience and made the Hemi Coronet our Star of the Week.
The very next day on another highway brought a different kind of muscle car onto the road.
I spotted a late model Viper in my rear view mirror and realized that was the very last moment that the big snake would be behind me. I was right about that prediction.
I had two furry passengers in the car because I had spent a few weeks dog-sitting two of my favorite canine buddies. They never indicated whether they were car guys but they love car rides, so I suspect that they may well be four-footed car guys.
Dogs typically have a somewhat disdainful attitude toward car tires, but they love the inside of cars, especially when there is an open window to hang out their heads.
The smaller dog was a member of the Bichon-Schitzu clan; very even-tempered dogs with a very strong pre-disposition to not listen to people. They are great little dogs that like to run their own show. Pongo is the dog in question and he has never been the world's best listener.
He is now a healthy 16-year-old senior citizen dog and you can also throw bad hearing into the equation for Pongo. By comparison, if he was human, he would be old enough to have made car payments on a Model T in his younger days.
He was riding in the car with a view toward the open road when the tricked-out Viper blew by me on the two lane highway. Vipers are very fast out of the showroom, fast enough to go from zero to a jail cell in less than 10 seconds. My best guess is that this Viper would get you there in less than 5 seconds.
The Viper day after the 426 Hemi day brought out a new definition of fast into the equation. The roar of the beefed-up V-10 with a barely restricted exhaust even made Pongo listen- and that is not easy for a hard-of-hearing dog that never listened even when he had good hearing.
He nearly hit the roof in the car from the big exhaust noise and I watched as a four-wheeled missile disappeared in a huge hurry down the road. True story: Sinatra's song 'Come Fly With Me' was playing on my MP3 when the Viper rocketed by me-and it was a random selection from my files.
Things get a little complicated here because the Viper was long gone before we could get a camera shot of it before it disappeared down the highway and I doubt whether the Hubble Telescope would have been able to track it after the driver romped on it.
That's why we decided to show you an empty highway because that is all we saw in a matter of seconds after the Viper launched for takeoff.
Pongo and I were both very impressed.
Jim Sutherland
Follow us on Facebook at-http://www.facebook.com/MyStarCollectorCar
Follow us on Twitter at- https://twitter.com/#!/MyStarCollecto1