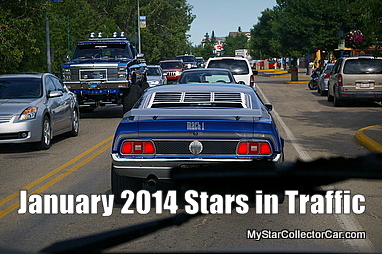 JANUARY 2014 STARS IN TRAFFIC: WINTER, SPRING SUMMER OR FALL-YOU'VE GOT A FRIEND
James Taylor had a huge hit with a song called 'You've Got a Friend' back in 1970.
He was talking early 70s hippie-speak back then so there's little doubt this song had nothing to do with old iron.
That doesn't diminish the relationship car guys have with their old rides. Car guys have a very personal bond with old cars and trucks and this link is showcased on the street.
Car guys spend winters working on their automotive buddies so they can hang out together on the road.
Here are some great examples of how this "you've got a friend" relationship does exist on winter,spring, summer or fall roads.