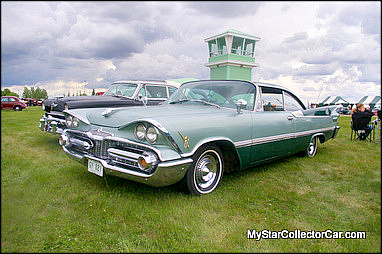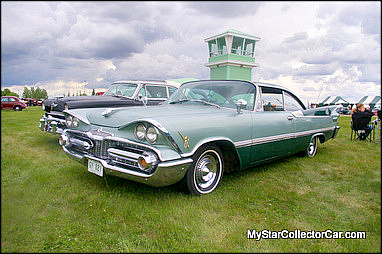 Chevrolet has a "Chevy runs deep" ad campaign that has been extremely effective over the last year.
In reality, the "runs deep" part of the brand loyalty equation applies universally.
Nowhere is this philosophy more evident than John Kehoe's 1959 Dodge Custom Royal.
Like most car guys, his dad was a huge influence as John admitted, "he always drove Mopars so it had an effect".
John recalled that his brother was the other factor in the equation, "he owned a '59 Dodge so I guess it stuck with me".
The late 1950s Dodge/Plymouth/Desoto/Chrysler lineup was known for Forward Look style, incredible engineering and some issues with the rust worm – particularly in '57. John's '59 Dodge came from a more hospitable climate and covered storage so it fared well over a 50+ year period.
John found this Custom Royal six years ago and it is essentially in the same condition in 2012. He skipped the extensive restoration part of the typical Forward Look owner's experience and simply aimed the big finned Dodge down the road the day he bought it.
That is an experience that many veteran Forward Lookers can only dream about because these cars are a labor of love in many cases.
John is a practical guy with a big weakness for fins but in this case he achieved the perfect blend as he explained, "I wanted something that I could drive to shows and not worry about it too much".
This Custom Royal was the perfect car for that scenario because it's clearly a driver quality car with enough presence to command significant attention at most car shows.
John's '59 Dodge runs a 361 V-8 mated to the bulletproof iron Torqueflite pushbutton automatic transmission. The car also has the power steering, power brake options that make life behind the wheel of this late 50s full-sized car that much easier.
This Custom Royal gets up to 2012 highway speeds with little effort because these cars were built for the turnpike experience. John explained, "It floats down the highway and I haven't run into the ditch yet but I generally like to run it at the highway speed".
John admitted that he made one concession to new technology, "I put radial tires on it and it really tracks nice with them".
The Custom Royal has one more non-factory option – a 1964 Dodge power seat. John explained, "it gets low enough so the girls can get out of the car easier now plus it's pretty comfortable".
Fin car guys know how their cars are like people magnets and John's is no exception, "I get out at a gas station and sometimes I can't get away. People want to look at it, some ask what it is and others used to own one".
John's game plan for his '59 Dodge Custom Royal is incredibly simple, "I just want to keep driving it shows in the area and have a little more fun with it". This is the perfect kind of car and owner matchup because the goal is incredibly simple…drive it don't worry about it. That's what his father did and that's what his brother did.
Mopar fins run deep.
Jerry Sutherland
Follow us on Facebook at-http://www.facebook.com/MyStarCollectorCar
Follow us on Twitter at- https://twitter.com/#!/MyStarCollecto1