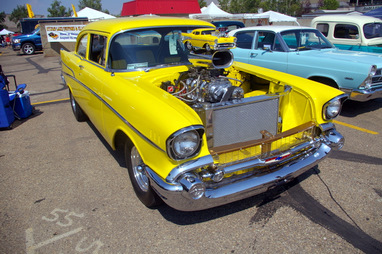 Dwayne Graham is a huge fan of the legendary '57 "post" Chevy-like millions of guys are, including names like Eric Clapton.
Eric liked them enough to include them in a song about American icons.
'Dwayne didn't sing about his '57 Chevy-he got his hands dirty.'
That puts him ahead of Eric Clapton because singing about a car and building one are two different concepts-separated by the difference between dirty hands and broken guitar strings.
Dwayne bought this car when it was in the early stages of a build so all he had to work with was a roughed chassis but that wasn't a problem because Dwayne is a first class fabricator.
Dwayne has a great combination of power and function in this yellow Chevy. It looks like a street monster but under the skin lies a very practical car. This car has an air ride suspension, electronic overdrive, a warmed up fuel-injected LS1 engine, Z06 suspension and an electric cooling fan.
Dwayne can drive this legend all day very comfortably on the highway and still pull down 25 miles per gallon. But looking at it scares the silly out of wannabe street light heroes because this five-seven looks intimidating even when it's parked at a show.
He hasn't put many miles on it since the build but so far he's really impressed with the manners of this '57. Dwayne is an old circle track racer so in reality he shouldn't be surprised that he's built a car that performs this well.
After all, just ask Eric Clapton- even he knows that NASCAR drivers win with reliability, power and gas mileage.
Jerry Sutherland
CLICK HERE to Like us on Facebook
CLICK HERE to Follow us on Twitter
CLICK HERE to Follow us on Pinterest
Please re-post this if you like this article.