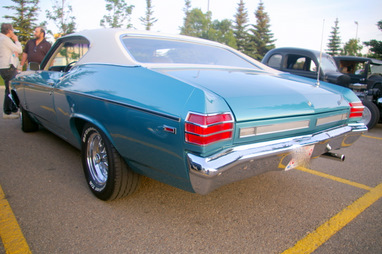 Back in 1969 Larry Bischke was looking for a car that was practical, but not boring and he was shopping at his local Pontiac-Buick dealership.
As luck would have it, he was shopping in Canada where Pontiac had the Beaumont-a Chevelle clone.
'Most guys would talk about a 40-year-old car in the past tense but Larry doesn't have to-it's still in his garage.'
Larry forced the Beaumont to go through only a few winters and that definitely added to its lifespan. It began as a practical car with its 21 mpg 307 motor and its major role was starring as a family taxi. The Beaumont took the family on vacations and kept them event free thanks to a trouble free power train and its reward was a lifetime in a garage.
The car has seen a few cosmetics including 2 paint jobs and new 1/4s but it's basically the same car Larry bought 40 years ago.
Larry intends to make the Beaumont a lifetime commitment and the car will stay in the family-his son Mike grew up with the car and he's penciled himself in as the next owner.
Larry still loves driving his car and he goes to the occasional show and from a financial point of view the car had made a lot of sense. His original $2800 sticker priced mid-range Pontiac was recently appraised at $32,000 but in reality the car is priceless-it's a part of his family.
'The 50th anniversary of the Bischke-Beaumont relationship isn't that far off but in reality they are really planning for the 65th-this Pontiac "Chevelle" will be the guest of honor.'
Jim Sutherland