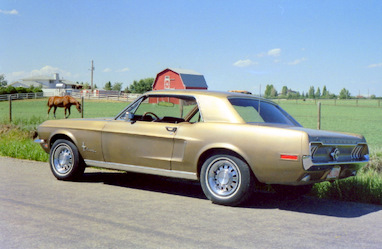 Dennis Sells had to make a difficult decision back in May 1978-he had to trade in his British racing green Volvo 123 GT for a brand new Ford 150 pickup.
'It was a great truck but after the sporty Volvo it drove a little too much like… a truck. Dennis needed a sportier car fix again so he turned to his personal history for inspiration.'
The inspiration came from his high school days riding around in his buddy's 1967 390 4-speed Mustang fastback.  
The car was a babe magnet and the lesson wasn't lost on Dennis.
In 1987 Dennis knew he had to have a vintage Mustang and he preferred a 1968 model. His research told them that a decent fastback or convertible would strain his budget but a Mustang coupe was feasible.
His search through the spring took him into June.
That's when Dennis found a '68 Mustang for sale in a newspaper ad. As most car guys know, Mustangs are incredibly popular so when Dennis got there at 7 pm there were 5 guys ahead of him to see the car and it was 9 pm before he got his chance to view the old 'Stang.
To put it bluntly, the car ran like crap and every would be buyer left without making on offer but Dennis had a theory so he waited until the sun went down.While he waited he learned the truth behind this vintage Ford-it was owned by the proverbial "little old lady". She bought it new and most of its life was spent in a two-block radius of her home because she was that close to her job as a hairdresser in small town so the 51,000 miles were absolutely true.
Dennis saw the evidence he wanted because he could see the electricity arcing from the spark plug wires, diagnosed it as bad wires and made an offer on the spot–3000 dollars.
Fifty dollars less than the retail price she'd paid in '68 for the Mustang to celebrate her 51st birthday.
After much needed major tuneup, Dennis spent the next ten years upgrading the cosmetics on the car as time and money permitted. He works within a budget because a job-related disability cut back his earning power but he's horse-traded and patiently secured parts as he could afford them. The car was a bare bones option-less unit but Dennis has a long list of options ready to be added to the car.
Things like GT equipment group, console, stereo, dual exhaust, power disc brakes, styled steel wheels, clock-the list is basically every option available in a '68 Mustang.
This is a long term project based on reality so Dennis drives it regularly and upgrades it as time and money permits. No need for a deadline–that paint job and vinyl roof can wait. Dennis is having too much fun with his '68 'Stang.
Clearly the Volvo is part of the past now.
Jerry Sutherland