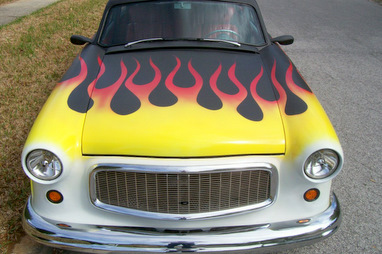 Eddie Nash is very proud of his last name so it's no surprise that a guy named Nash would buy an American Motors product-after all they come from the same family tree.
Eddie's a true car guy-it says so right on his birth certificate with his surname so he jumped at the chance to buy this tricked out Rambler.
The car itself has a Hollywood connection and like most Hollywood stories, there's an element of intrigue to keep the public interested. 
This car is no exception.

Eddie bought the car at a repossession sale in NewOrleans because the previous owner clearly owed money on his ride. Further investigation on Eddie's part showed that the guy was a bit of a player in the production side of the TV and movie business. He'd actually worked with some significant names in that crazy world known as "show biz" but for some reason he'd had to let this car go.
But not before driving it like it was going to be seized as evidenced by the giant fistful of traffic tickets (accumulated in 15,000 brisk miles) that Eddie found in the car.
Eddie is really having fun with his Hollywood Dream car-this is no trailer queen because Eddie is picking up where the previous owner left the car. He's driving the wheels of this Rambler rocket. The car is a good mix of reliable and scary with a 350 Chevy backed up by a 350 automatic and 9" Ford rear end. It tends to stop and handle much better than stock with a Camaro sub-frame hooked up to disc brakes on all 4 wheels.
This is a nice custom with a 3" chop on the roof and all the period correct custom mods like frenched headlights and shaved door handles.
Eddie is thrilled to be the owner of this wayward Rambler American and he plans to keep it forever- that is the definition of a true Hollywood happy ending.
Jerry Sutherland

CLICK HERE to Like us on Facebook
CLICK HERE to Follow us on Twitter
CLICK HERE to Follow us on Pinterest
*Re-post if you like this MSCC article…thanks.