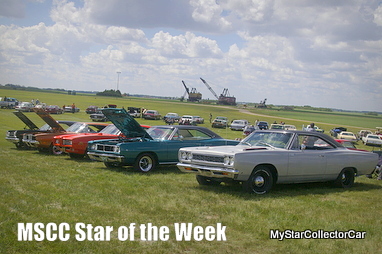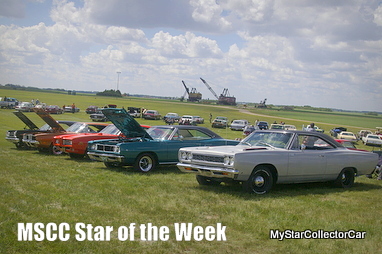 MSCC JUNE 22 STAR OF THE WEEK: THE BROTHERHOOD OF THE MUSCLE CAR
Muscle car loyalty definitely aligns along brand names.
Ford guys are Ford guys, Chevy guys are Chevy guys and Mopar guys are Mopar guys in the world of classic horsepower.
Despite the obvious rivalry, muscle car guys do have a common bond because they all come from the same hometown of Detroit.
This isn't the same thing as Harley Davidson vs Japanese or German motorcycles – these guys share American heritage.
Maybe that's why the MSCC Star of the Week classic muscle cars were grouped together at a show last weekend even though there were four Mopars and only one Judge.
The Poncho guy would probably say he was adding class to the lineup while the Mopar guys would say they were feeling sorry for the Poncho guy.
MSCC JUNE 21 STAR OF THE DAY: METS – THE CUTE LITTLE PUPPIES OF THE OLD CAR WORLD
Nash Metropolitans were way ahead of their time when they debuted in 1954 because this was the dawn of big V-8s and big cars.
Mets were meant for a different era. Gas was 21 cents a gallon in '54 so the idea that you could save a few hard-earned bucks on gas was laughable.
Despite the lack of support for fuel-efficient cars in the fifties, very few people slammed these little Mets for one simple reason.
It would be like kicking a puppy through a plate glass window.
Take a look at the MSCC Star of the Day…cute puppy cars on parade last week.
MSCC JUNE 20 STAR OF THE DAY: BRICKLIN SV-1 – FROM THE "IT WAS WORTH A SHOT" FILES
The Bricklin was a great idea in theory, but reality was another world for these unique performance/safety cars.
Their bodies were essentially a plastic-fiberglass combination that was still in its infancy so that caused a few cracking problems on the assembly line.
They had overheating problems too and by the time they shut down the New Brunswick Bricklin factory, these Vette fighters had burned up a lot of tax money.
Despite the bad press, this MSCC Star of the Day Bricklin at a show a few years ago confirmed they were worth a shot.
MSCC JUNE 19 STAR OF THE DAY: '64 CHEVY IMPALA – TAMPERING WITH PERFECTION
There are a fair number of '64 Chevy Impalas left thanks to their incredible popularity.
Impalas set trends every year in the 60s because they were cutting edge style in an affordable package.
They were American icons on four wheels.
Despite their high survival rate, not many '64 Impalas remained factory stock over the decades because they were easily converted into seriously modified rides.
This MSCC Star of the Day '64 Impala was at a show back in May where it was a solid example of what perfection looked like right out of the factory.
MSCC JUNE 18 STAR OF THE DAY: '56 METEOR NIAGARA – FORD STYLE WITH HOSER TOUCHES
This looks like a '56 Ford but the front end treatment and side trim leave a lot of American car guys with more questions than answers.
Fortunately there's a logical explanation for this mystery hoser Ford and it's found north of the border.
Ford Meteors were a Canadian version of the standard American Ford so they were very familiar sights back in the days when Tim Horton was still a hockey player instead of a doughnut empire.
This MSCC Star of the Day 1956 Meteor Niagara was at a car show back in May and yes…it was a Canadian car show.
MSCC JUNE 17 STAR OF THE DAY: ANGLIA – THE FIRST NAME IN BRITISH TRACK STARS
Anglias were never known for raw power back in the 40s. These little Fords were definitely on the low side of basic with few options and fewer cubic inches.
They made a mark in the sense that they were affordable to buy and run but in the end Anglias nearly disappeared until the drag strips called.
Suddenly these little Fords were in demand because you could shoehorn a monster under the hood and wreak havoc at the track. Gearheads loved the short wheelbase and the incredible power to weight ratio.
This MSCC Star of the Day Anglia was at a show last Saturday and no – it wasn't stock.
MSCC JUNE 16 STAR OF THE DAY: '70 CHARGER WITH A PINKISH HUE
Second Gen Chargers aren't exactly rare sights at car shows thanks to their overwhelming numbers of fans.
These cars had an instant cult following that exists to this day.
The 68-70 Chargers were like a work of art when they came out of the factory so anytime you see one on the street there is instant recognition of this classic Mopar.
This MSCC Star of the Day '70 Charger was on the street two days ago and the pink color took it to another level of recognition.
For past MSCC Stars of the Day please click here.
Star of the Day page sponsored by Southside Dodge.