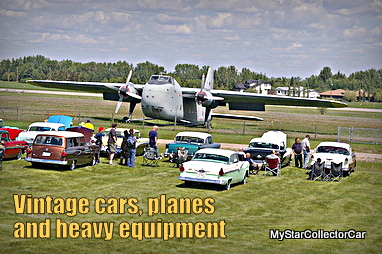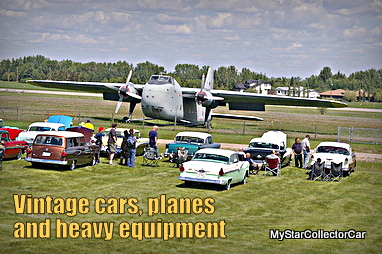 One of the big ticket items on our annual car show schedule is History Road at the famous Reynolds Museum in Wetaskiwin, Alberta, Canada.
This museum is home to a world class car exhibit as well as a nearby aviation display and hosts one of our favorite annual June events.
The background to the car show is a stunning blend of planes and even a few giant cable-driven construction hoes. We do not photo-shop at MSCC, so the opportunity to shoot car photos with these props behind them is irresistible to us at the annual Reynolds show.
This year's show was one of the best because there were plenty of participants and we tracked down some great stories at Reynolds. One of the best of the weekend was our encounter with another actual WWII Jeep.
This little warrior will be featured in a future MSCC article and it served as a transport vehicle in one of the toughest battle zones of WWII. Look for its fascinating story in November as part of a Remembrance Day feature.
We finally tracked down the current owner of a survivor 1965 Mercury sedan that was purchased in Wetaskiwin 49 years ago and never left the area.
Last year we spotted the car and read its story on the owner's information sheet, but never connected with its owner because he left the show before we could talk to him.
The friendly owner had a lot to say about the Merc-and even more to say about his daughter's 1968 Chevy truck because he bought the truck brand new back in '68 when she was a little girl and it became a big part of their family.
The truck is also a survivor and will be a great future story because of its long history with one family.
Ever heard of a Scot truck?
Neither had we, until we spotted one at the Reynolds show and learned all about this little-known Canadian big rig.
They are rare vehicles to say the very least, but a giant truck with little-known brand name at a car will get our attention every time. Look for the story of the Scot truck in a future MSCC feature.
A 1957 Dodge truck grabbed our attention when its owner described how he purchased it in 1972 and it survived a divorce that nearly forced its sale. His bond with the truck runs deep and you will see how deep when we feature his truck story in a future MSCC article.
We spotted a 1931 Plymouth hot rod at the show and could not help but notice its significant signs of use because this car was the Bizarro world version of a trailer queen. Superman comic fans will recognize the reference to an alien world whose people did the complete opposite of earth people.
The Plymouth's owner lives 12 miles off pavement and has driven his car on gravel to paved roads ever since he built the car in '88 because he builds 'em to drive 'em. They call it "patina" in car world-we call it a great basis for a future story because we want to tell how it got all that patina.
Finally, there was a very cool Caddy Sedan De Ville owned by a guy who loves to work on and draw pictures of old iron. He's a master at both and he had an incredible  car.
These are a few samplers because we have other stories from our visit to the annual Reynolds show and will also share them with you in future MSCC articles.
Jim Sutherland