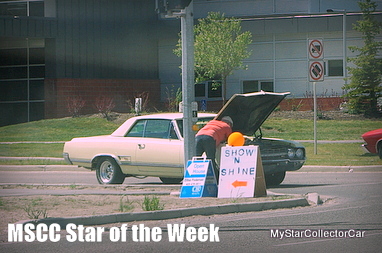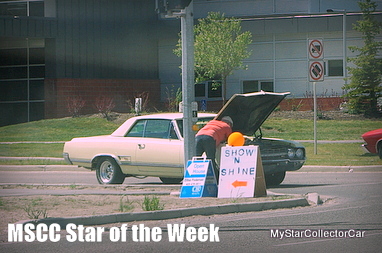 MSCC MAY 23 STAR OF THE WEEK: LOOK UNDER THE HOOD AND WELCOME TO THE CAR HOBBY
The rules of the car hobby are pretty basic when you drive old iron.
Old is old so eventually you will found yourself beside the road with the hood up.
Hopefully, it might be something as simple as vapor lock but that hood is going to rise at some point and you better bring your best game.
That's why the Star of the Week is this Oldsmobile guy spotted yesterday in traffic.
Welcome to the car hobby.
MSCC MAY 23 STAR OF THE DAY: '51 CHEVY—SOMETIMES LESS IS MORE
There are an infinite number of strategies with an old car.
You can go full bore and spend the equivalent of Ecuador's GDP over ten years.
Or you can live with what you have and do a few simple, classy modifications for a lot less money.
This MSCC Star of the Day '51 Chevy at a show last night was a great example of how to get an outstanding car with a few tweaks and a lot of imagination because sometimes less is more.
MSCC MAY 22 STAR OF THE DAY: RATTIES-COULD YOU DO A CROSS COUNTRY TRIP IN ONE?
Rat rods are the anti-comfort rides.
They're an inch off the pavement, they ride like bricks, they're louder than a Harley with no mufflers inside the cab, they have steel seats and most of the time the only air conditioning is no side windows.
None of that matters because ratties are built for style not comfort.
Nevertheless, how many people would survive a non-stop cross country run in this MSCC Star of the Day?
MSCC MAY 21 STAR OF THE DAY: IT'S A MARATHON—NOT A SPRINT
Car projects should be measured in glacial time over eons because that's how long they seem to take.
Real life is nothing like made for TV projects where they can pump out world class custom rides in two weeks to meet a tight deadline.
That kind of fictional story only sucks in the naïve and uninformed.
This MSCC Star of the Day is reality because every project is a marathon, not a sprint.
MSCC MAY 20 STAR OF THE DAY: IHC –THEY'LL WORK AS LONG AS YOU NEED THEM
International Harvester was known for heavy duty farm equipment from Day One but they did venture into light, medium and big trucks.
Cornbinders weren't known for their comfort and style because that wasn't the point.
IHCs didn't need the glamor because that doesn't matter on the farm or a construction site.
That's why this MSCC Star of the Day IHC truck is still on the job today because they'll work as long as you need them.
MSCC MAY 19 STAR OF THE DAY: '62 FORD THUNDERBIRD—THE BULLET BIRD WAS A TREND SETTER
The early 1960s produced some cutting edge styling and Ford led the parade with cars like the '61-63 Thunderbird.
These Bullet Birds paved the way for a new decade because they sent the buying public a simple message.
Welcome to the 1960s.
This MSCC Star of the Day 1962 Thunderbird was a Bullet Bird trend setter.
MSCC MAY 18 STAR OF THE DAY: '66 PLYMOUTH BELVEDERE II-A 66-1 ODDS ON FAVORITE
1966 was a pivotal year in many ways.
The Beatles played their last concert at Candlestick Park in San Francisco, Walt Disney died during the production of The Jungle Book, Star Trek debuted on TV, the first Blackbird flew its first mission, and the 426 street Hemi debuted in a Plymouth.
Plymouth is gone but that street hemi legend continues to this day but it was a 66-1 long shot that you could find a 426 Hemi under the hood of a Belvedere.
Most of them were modest cars like this MSCC Star of the Day '66 Belvedere II 4-door sedan at a show back in April.
For past MSCC Stars of the Day please follow this link.
CLICK HERE to Like us on Facebook
CLICK HERE to Follow us on Twitter
CLICK HERE to Follow us on Pinterest
Please re-post this if you like this article.
Star of the Day page sponsored by Southside Dodge