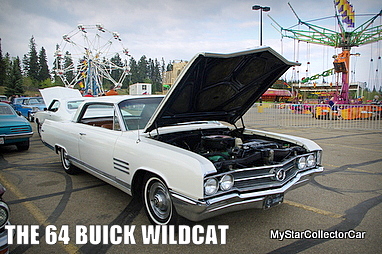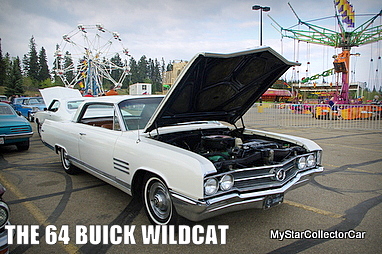 There were a lot of beauties at a recent car show, probably too many to list in one article, but one stood above the rest for me that day: a 1964 Buick Wildcat.
The car was a white two-door hardtop and it embodied everything that was great about the mid-60s automotive style in North America.
The Wildcat name was in its second year as a stand alone Buick model in '64 and it wore its newfound label independence as well as any car from the era.
Big cars like the Wildcat were large and in charge on the road in 1964 and were driven by owners with more money and fewer kids during the last days of the Baby Boom.
A 1964 Buick Wildcat was more likely to be driven by Sinatra than your next door neighbor in the suburbs when it rolled off the factory because these babies were all about the cool factor.
The lines of a 1964 Wildcat were unmistakably from the tweener years of the 60s– the look was evolved from the transitional period of early 60s finless cars, but not quite aligned with the squarer lines of the 1965 models from Detroit.
The tweener years produced a rounded, sleeker look for many cars in North America during the transitional phase and the 1964 Buick Wildcat was a front-runner during this era. The Wildcat was a full-sized ride with plenty of creature comforts to pamper its owner.
The roof design was particularly strong in the hardtop models and made the '64 Wildcat look fast- even at a standstill. The absence of the trademark fake exhaust portholes on the front fenders was another Wildcat feature in 1964, instead the cars had three horizontal rectangles on their fenders.
These rectangles were only part of an overall bling package for the Wildcats. The cars were loaded with body trim and enough glitter to keep a chrome factory open 24/7, every day of the year (including Christmas) in 1964.
I use the chrome factory illustration as a massive exaggeration, but there is a lot of chrome on a 1964 Buick Wildcat and every piece adds to the car's cool quotient.
The 1964 Wildcat had two engine options and both were nailheads with over 400 cubic inches and plenty of torque from the unique small valve (thus the nailhead name) cylinder heads from Buick. It also had a standard equipment three-speed automatic in an era of two speeds from the General.
We do not see an abundance of Wildcats at show, particularly one that was restored to a high level like this '64 model. The car also ran whisper quiet when I spotted it exiting the show-before I had an opportunity to interview its owner.
The car will be very high on my to-do list of car stories this season and some preliminary detective work indicates it hails from a small town about 40 minutes east of my home. The beauty of an unusual ride like this Wildcat is its rarity, and I am confident its story will be a future MSCC feature.
The 1964 Buick Wildcat had it all in my humble opinion. It had a cool name, cool lines, a generous amount of available horsepower to a driver's right foot, and a big car presence on the road.
This was a home run car- then and now.
Jim Sutherland
CLICK HERE to Like us on Facebook
CLICK HERE to Follow us on Twitter
CLICK HERE to Follow us on Pinterest
Please re-post this if you like this article.