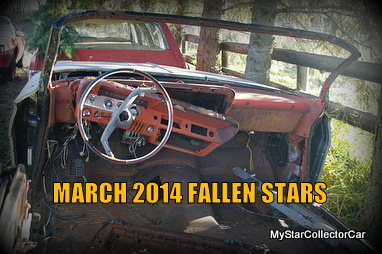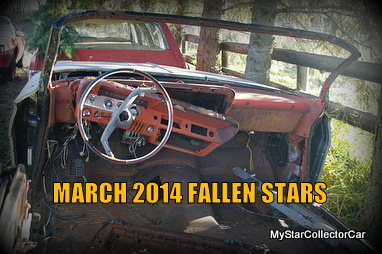 MARCH 2014 FALLEN STARS-SOME WILL RISE AGAIN IF THEY'RE LUCKY
"Fallen" can be a verb or an adjective but in this section it's definitely an adjective.
The precise dictionary definition of "Fallen" as an adjective is "having dropped or come down from a higher place, from an upright position, or from a higher level, degree, amount, quality, value, number, etc".
That sums up these old rides because they were in a higher place when they rolled into a showroom but that was clearly a long time ago.
These old rides have clearly slipped in quality and value but that doesn't mean they (some) won't return to their former glory.
That's the beauty of the hobby because some of these will rise from "Fallen" status.
FOR A LOOK AT PAST MSCC FALLEN STARS, PLEASE FOLLOW THIS LINK.