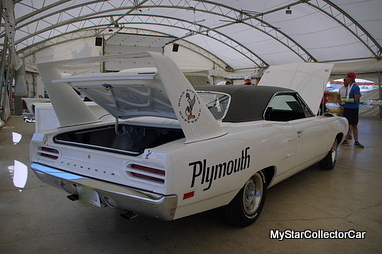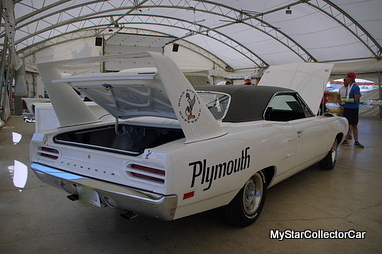 The 1970 Plymouth Super Bird was born because Richard Petty defected to Ford in the '69 NASCAR season.
That 's a very brief history of these winged warriors but it does distill history down to one sentence.
These cars were hardly stealthy sleepers but this one comes pretty close.
Alan and Darlene Setla are the proud owners of this rare car and they bought it partly because this car is relatively unobtrusive thanks to its white paint.
Alan admitted, "I loved these cars from the day they came out and I knew eventually I'd own one. Back then they'd sit on car lots- nobody wanted one because they considered them big and ugly".
Alan explained the color, " They only made 117 in Alpine White and only seven of them were Hemi cars". The Setlas were sold on the remarkably unremarkable white Super Bird right from the first time they saw it but this car is a curious mix of inexplicable options.
This is a Hemi Super Bird with a bench seat and a column shift ,"this is how it was ordered ,white with a black interior.It's like a classy muscle car that's very understated".
Alan explained the the history behind this Mopar classic, "This car was pretty well known with the collector guys so I was surprised to see it for sale. It was built in Detroit then it went to Canada and eventually down to Georgia. Then I found it and brought it back".
The car was definitely in "as-is" condition as Alan recalled, "The collector guys saw that it was a little dirty and kind of beat-up a little but it was actually pretty good-no real damage or bondo at all".
Alan saw that as a  huge advantage, "It's kind of nice that it was untouched but now it's a fully restored, numbers-matching 44,000-mile car with a Hemi and factory 3:23 gears".
The driving experience behind the wheel of Mopar wing cars is a lot like rock star status because these are incredibly visual cars when they're on the road. The Setlas are already veterans of the spotlight, "This may be an understated car by Super Bird standards but we've had people speed up to pass and get ahead, then slow down and get out of their cars so they can take pictures".
This car is a keeper as Alan explained, "I almost settled for a Road Runner but this car came along and that was it. We only put about 1000 miles in the first year but it definitely sees the road when there's no bugs or a lot of people out there".
The Setla's search for a Super Bird was clearly successful and Alan is is no hurry to put it on the selling block because this car is exactly what he wanted back n 1970. He admitted, "It will probably never happen because I know how bad I wanted this car and this was such a good find".
Super Birds with understated style are almost a freak of nature but this one comes close.
Jerry Sutherland
*** Note–since this article was written the car has changed hands a few time based on a lot of feedback from readers…