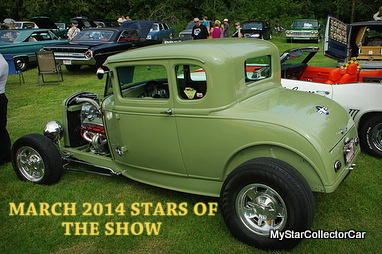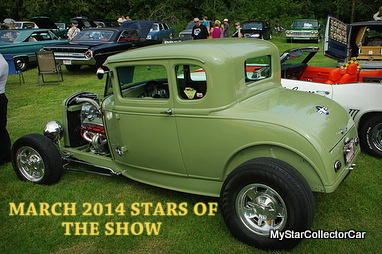 MARCH 2014 STARS OF THE SHOW-GREEN IS A POWER COLOR THIS MONTH
Green is definitely not a color of choice for anything on four wheels. Most people shy away from anything with a greenish hue when they check off options on an order.
That's the ways it's been for decades although green was more an option in the earlier stages of the 20th century due to a lack of big color options for pre and post-war cars.
Mopar experimented with some seriously green colors in the early 1970s and they had quite a few takers at the time but they fit the era and the attitude at the time.
Despite the brief day in the sun at Mopar there was another steep decline in the number of green cars on the road and this continues to this day.
These pictures were culled from six years of car shows because it took that many examples to find over 20 green cars.
Nevertheless, this month is a celebration of the green and March 17th is one day where you really wish your car was green like these classics.
FOR PAST MSCC STARS OF THE SHOW PLEASE FOLLOW THIS LINK