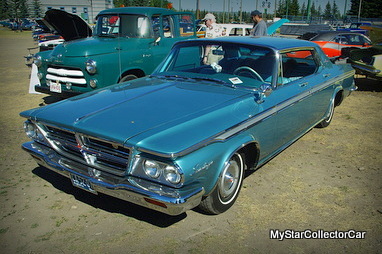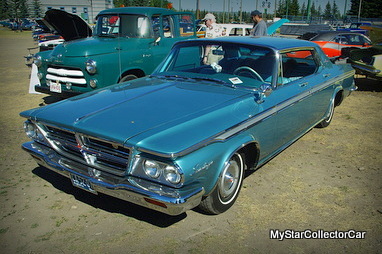 The 1964 Chrysler is one of those niche cars because it's not small enough to qualify as potential muscle car and it's not glamorous enough to qualify as a classic luxury car.
They may have fallen between the size lines in 1964 but Chryslers were still popular with over 130,000 buyers when the Beatles invaded America.
This particular example was at a Mopar show back in 2012.
Jacqueline Tagg is the primary driver of this '64 Chrysler Saratoga and she is a huge fan of her large Mopar 4-door hardtop.She spends time behind the wheel of this car en route to shows with her husband. She goes the comfortable route with her Chrysler and he drives his working-class '55 Fargo pickup.
This is a very original example of a '64 Saratoga as Jacqueline explained, "We got it from an estate sale ten years ago. It was owned by a retired farmer and it had 60,000 original miles on it".
The car was in excellent shape and it could have been a pristine survivor except for an unfortunate weather-related incident as Jacqueline recalled, "It was in a storm and it was hit by hail. The car was rust-free so that was too bad".
The Taggs wanted to keep the car absolutely original, but the damage changed the game plan, "We thought about just getting all the little dents fixed and keeping the car in original paint but there too many of them so we had it repainted".
They managed to keep the original tags but Jacquie explained how the new paint brought new tech to the old Chrysler, "Nowadays it has a clear coat so it's pretty nice to look at".
The Taggs are fixtures at many local car shows and their unusual Mopars are welcomed in many different towns and cities in the area. Jacqueline is very proud of her Saratoga and she's well aware of how unique this car is because she's always answering questions about the big, blue, full-sized Chrysler.
She enjoys the camaraderie and community spirit at car shows so she travels in convoy with her husband to really share the car hobby.
Jacqueline is convinced she gets the better deal because, as she admits, "It's really comfortable, it just floats. I can sail along and Keith barely keeps up in his truck so I think I came out ahead for sure".
They like to display period correct items when they park their vehicles at a show so the Chrysler usually has an authentic drive-in restaurant tray and the car has another period-correct option. Jacqueline explained, "It's got curb feelers although that's kind of funny because I never parallel park this car".
The full-size '64 Chryslers were pretty common back in the Swinging Sixties but they clearly don't enjoy the cult following of classic Mopar muscle but that's what made this Saratoga stand out in a sea of B and E-bodies. That and the enthusiasm of its owners.
The Taggs are clearly firm believers in the old adage that the family who travels together, stays together, so the duo is on the road for most of the summer living the dream in some seriously cool Mopar iron.
Jerry Sutherland