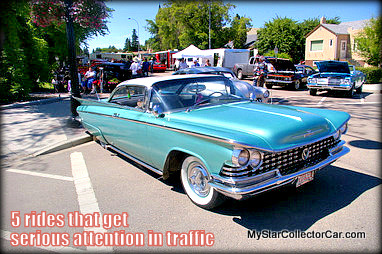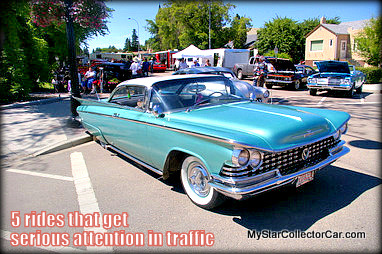 Remember the class clown in school -the kid who wisecracked his way to failing grades and the faint hope of a future comedy career?
All other attention-getting devices aside, the kid may have wanted to invest in a vintage ride as an adult because nothing gets attention better than an unusual set of wheels at a show or on the road.
Love the spotlight? Here are five ways to get the attention directed right at you every time you jump behind the wheel.
The 1953 -61 Isetta: The grandfather of the current smart car concept was the Isetta. These bizarre little cars with an anemic little one-cylinder engine were big ticket items in the 50s and early 60s oddball car world. A tired, old and arthritic antelope would easily outrun an Isetta, but nothing could beat the quirky little three-wheeler in the terminally cute department.
The 1961 Plymouth: Virgil Exner was the king of the fins during the famous 50s at Chrysler. Nothing said that Exner was done at Mopar better than a 1961 Plymouth, arguably one of the most unusual-looking cars ever to hit the streets. The Exner inspired fins were amputated from the '60 and left what became known as the "plucked chicken" look from Chrysler. It marked the abrupt end of the Exner era at Mopar.
The 1970-78 AMC Gremlin: It was introduced on April 1 1970– connect the dots on the launch date any way you want on that one. It was a familiar sight on the street during the Me Decade, but these days the somewhat unloved little compact is a rare sight indeed. Chop off the posterior on an AMC Hornet and you had a Gremlin in 1970. It was a cost-effective way for American Motors to create two models from one basic car. Beauty was in the eye of the beholder.
The Type 2 Volkswagen pickup truck: This unusual addition to the utility light pickup market debuted in the 50s here in North America. This VW truck was no threat to run over the Detroit truck market but it does look very retro-cool in the 21st Century. Just add plenty of extra time to get to car shows in this tortoise.
The 1959 Buick: This Buick had early signs of the 60s in its sheet metal because the '59 Buick did not possess the massive fins of its affluent cousin, the 1959 Cadillac. It had a very distinctive front end that may have been mistaken for an angry look with its headlight configuration. This look was unique to the Buick and was unconventional then-let alone now.
We will most certainly have more unusual show-stealers in future stories here at MSCC.
Follow us on Facebook-http://www.facebook.com/MyStarCollectorCar
Follow us on Twitter at- https://twitter.com/#!/MyStarCollecto1