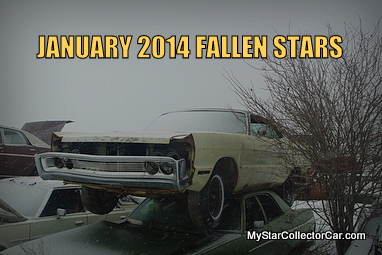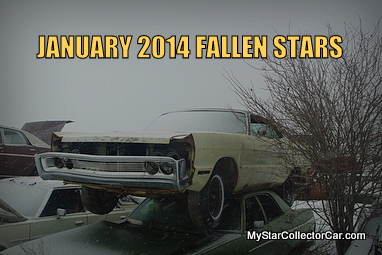 JANUARY 2014 FALLEN STARS: THE GRIM REALITY OF WINTER FOR OLD IRON
These are all "outside cars and trucks" in winter. This means an angel hasn't thrown a wing over them and brought them inside for a brighter future.
Some of these Fallen Stars are in mere winter hibernation so the future isn't bleak like the weather.
Others clearly have no future like this '64 Galaxie neatly wrapped up for a date with Mr. Shredder.
Most of these old rides are on the cliff, literally and figuratively in life, so this may be the last time they ever make a public appearance.
Take a look at these Fallen Stars and celebrate the glory of what they once were in a showroom decades ago.
For a look at past MSCC Fallen Stars, please follow this link .