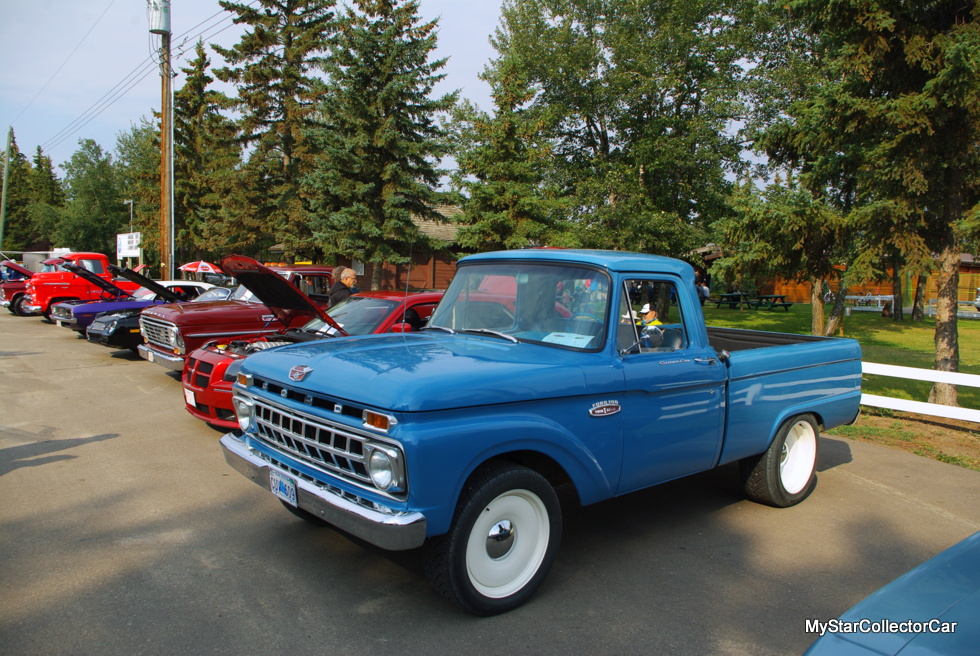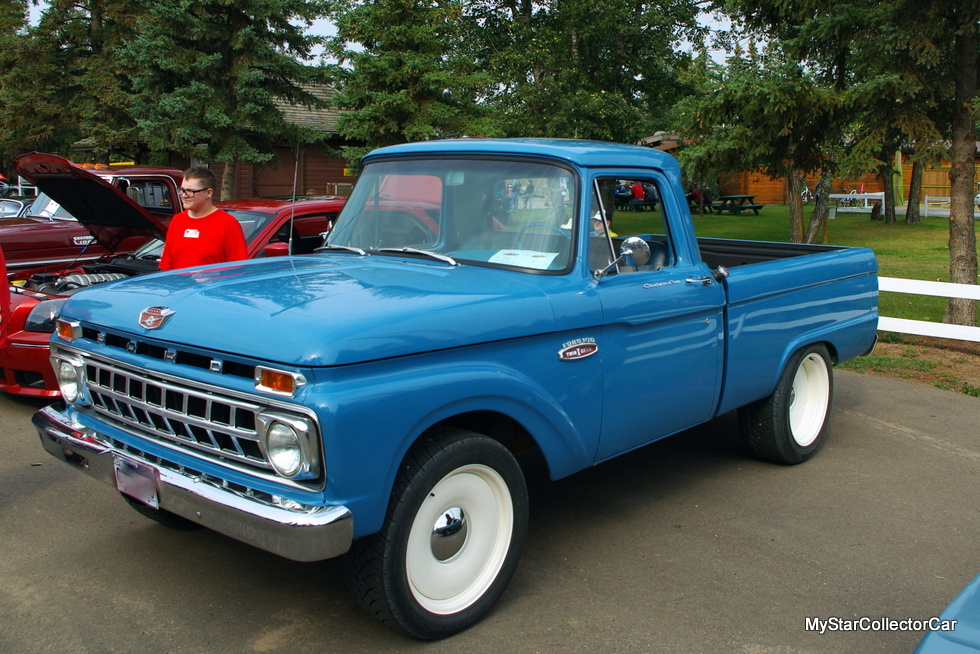 There's no question the foundation of the car hobby is a trip back in time.
This is a literal trip back in time because you're driving something from the past but there's also a figurative trip back in time because you're going back to that time in your mind.
A 1966 Ford pickup was the original version of the time machine but this 1965 F-100 is the 21st century time machine for John Hultink.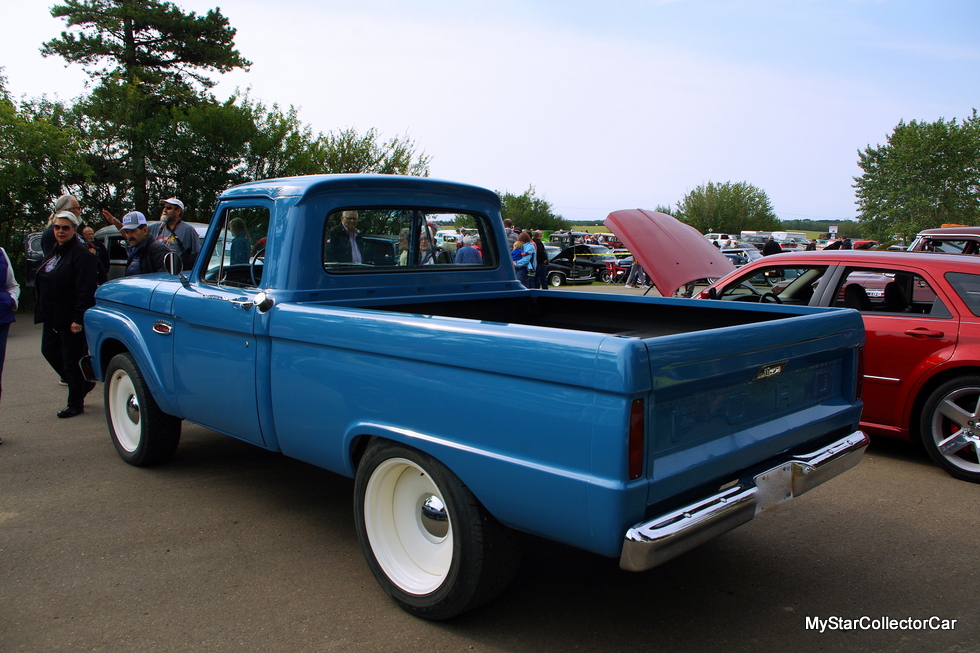 John's "courtin' truck" was a '66 Ford pickup so his quest was to replace that truck with a reasonable facsimile. He found a '65 Ford F-100 in a southern state and the rest is—or was history.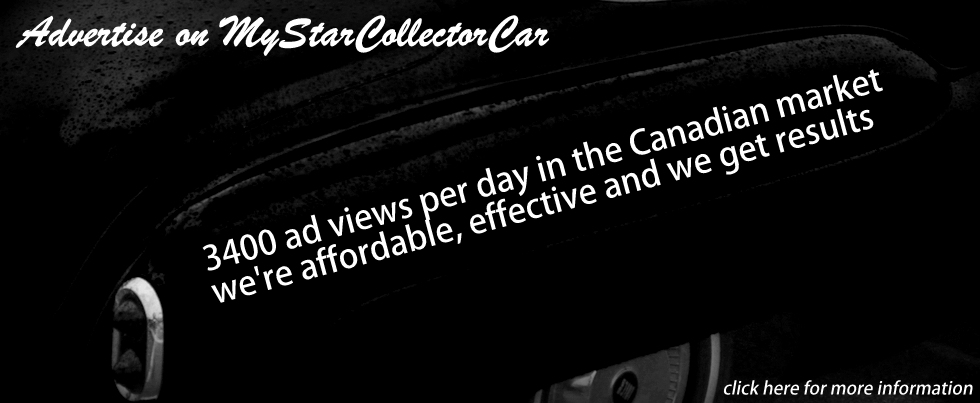 John said the truck had faded paint and the engine "was covered in oil" but it was very solid and the metal was in an undisturbed survivor state. That's the Holy Grail starting point for any project. He called it an "acreage truck" because of its short box, lighter springs, higher gears and overdrive manual transmission.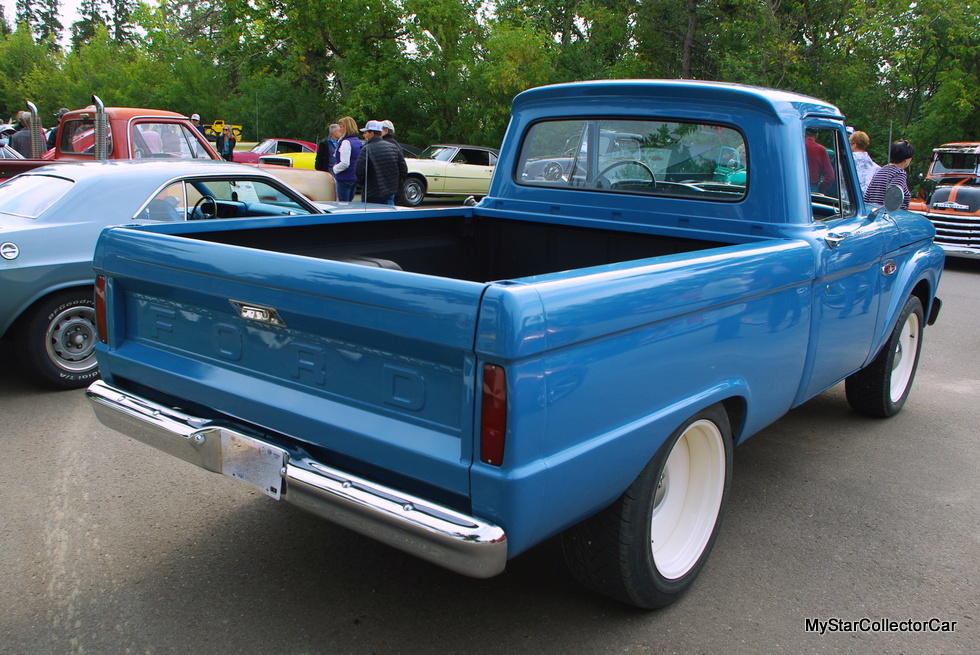 The truck became a fairly regular driver in that as-found state so John put some miles on his F-100 despite its rough exterior and oil-burning engine. The game plan was simple—bring the truck back to its former glory with a realistic game plan. He said the engine "was tired, it puffed a little smoke and it was embarrassing" so an upgrade was mandatory.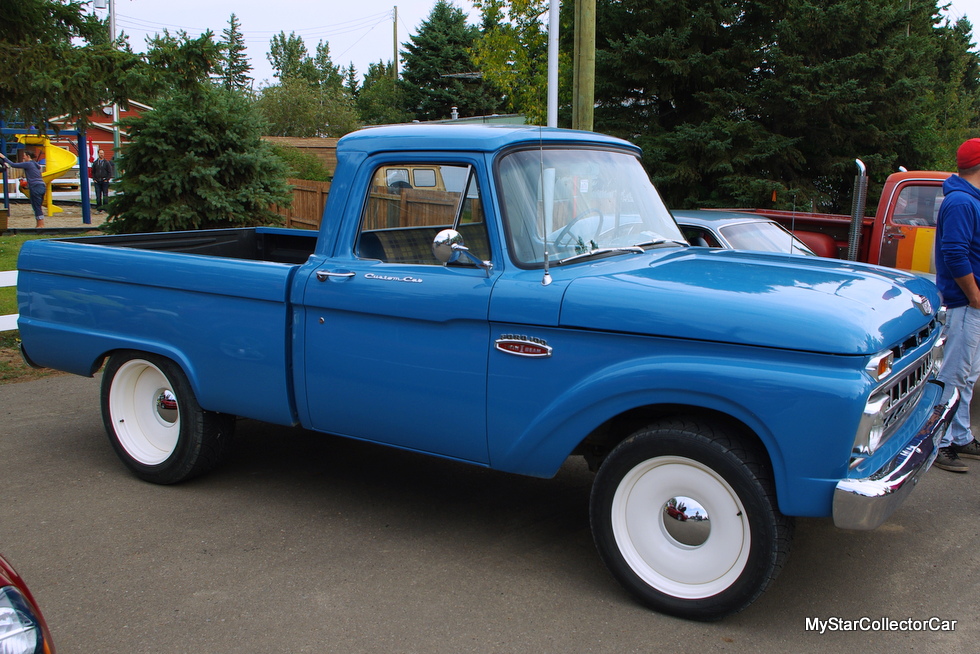 John had a lot of help with the resurrection of his '65 F-100 because his family bought into the plan in a very literal manner. John said he "hadn't paid anything" to get it to this point because his sons gave him the paint job for his 50th birthday.
The truck is close to its factory color because they matched the paint with the inner door sill but John pointed out how the firewall was a slightly different shade of blue.
John's wife contributed to his birthday celebration with a great gift—a brand new interior. The truck still looks great even though John's 50th birthday was a few years ago because it's protected from the ravages of winter in comfortable inside storage.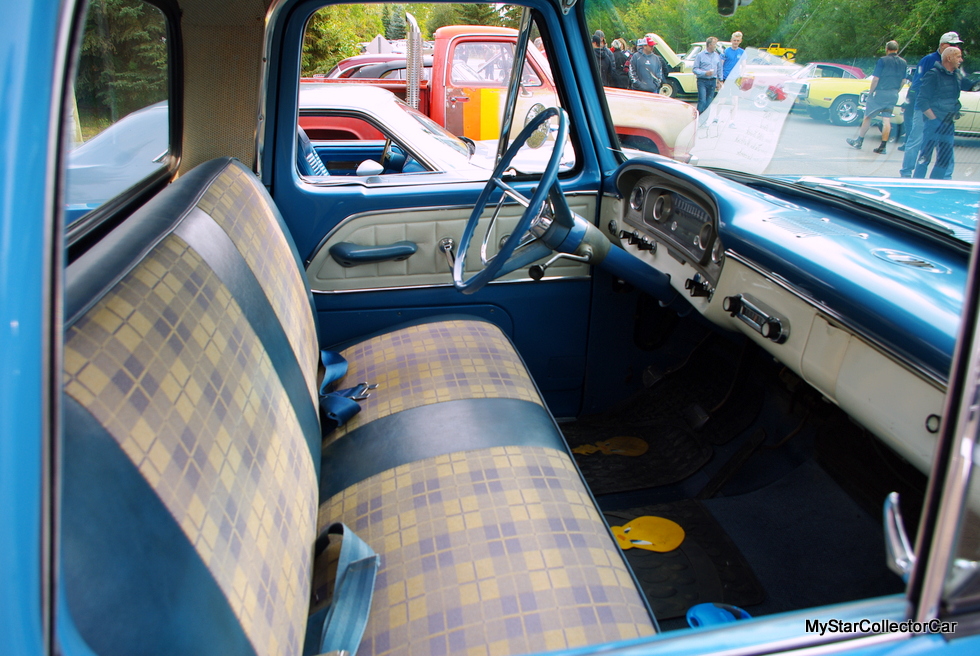 John did get his hands dirty on the badly-needed engine rebuild. He had a mechanic buddy offer to help and "walk him through the process" so John learned while his friend quarterbacked the job. He pointed out where and how John had to twist a wrench to get this job done so the formerly oil-covered straight-six turned into an engine so quiet John could "barely hear it running".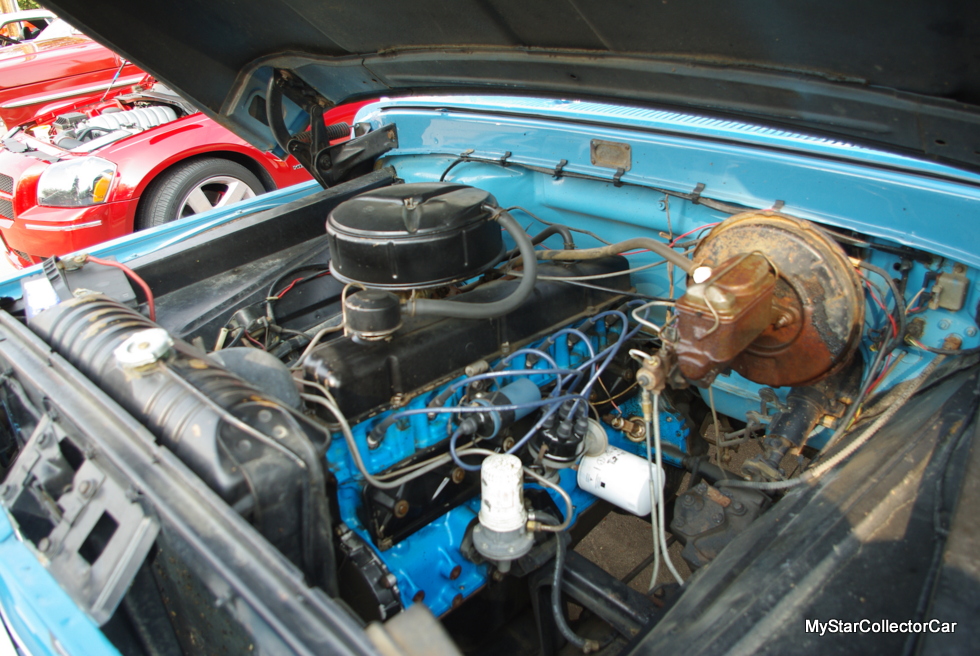 He kept the oil bath air cleaner and he found out how antiquated it was when a kid at an oil change shop pulled it off and gave the grim news he had "oil in his air cleaner" so it was pretty serious. Old tech met new technician that day.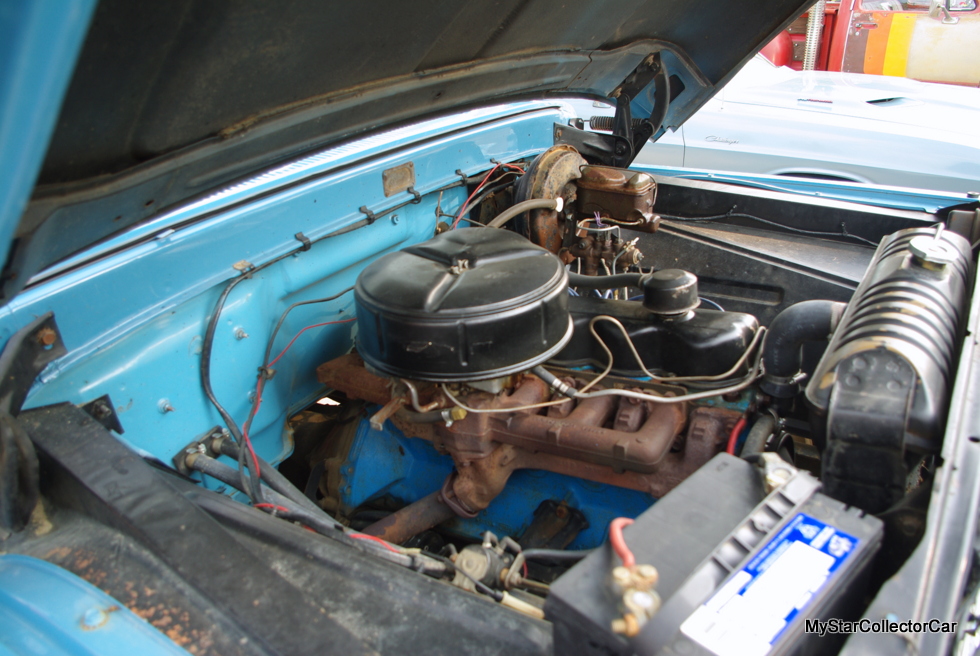 The brakes were another issue. John wasn't impressed with the stopping power of the stock drum setup so he bolted on a '78 Ford pickup front end and added front discs. He said the swap was easy and the discs plus the dual master cylinder gives him a lot more confidence on the road. John is a professional driver and he respects the challenge of 21st century traffic—the brakes are a big asset.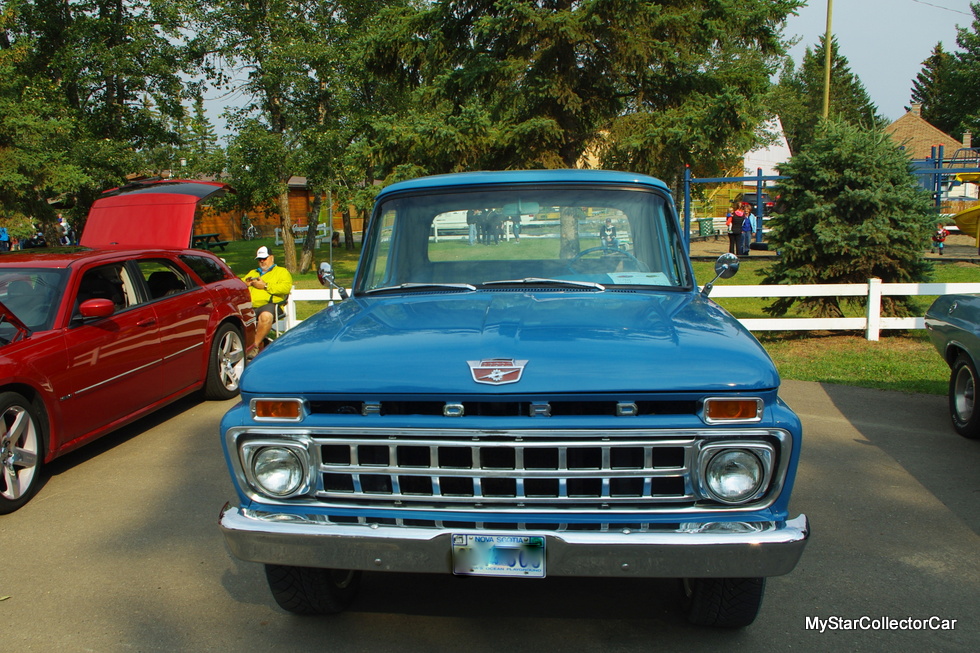 This truck is so solid on the road John said "Grandma could drive it" but the 15" wheels and tires needed a "lot of muscle" to steer so John upgraded to bigger, higher pressure wheels and tires so it's a lot easier to maneuver in a parking lot.
In the end, this '65 Ford replaced a long-lost courting truck with a flair that the original one never had.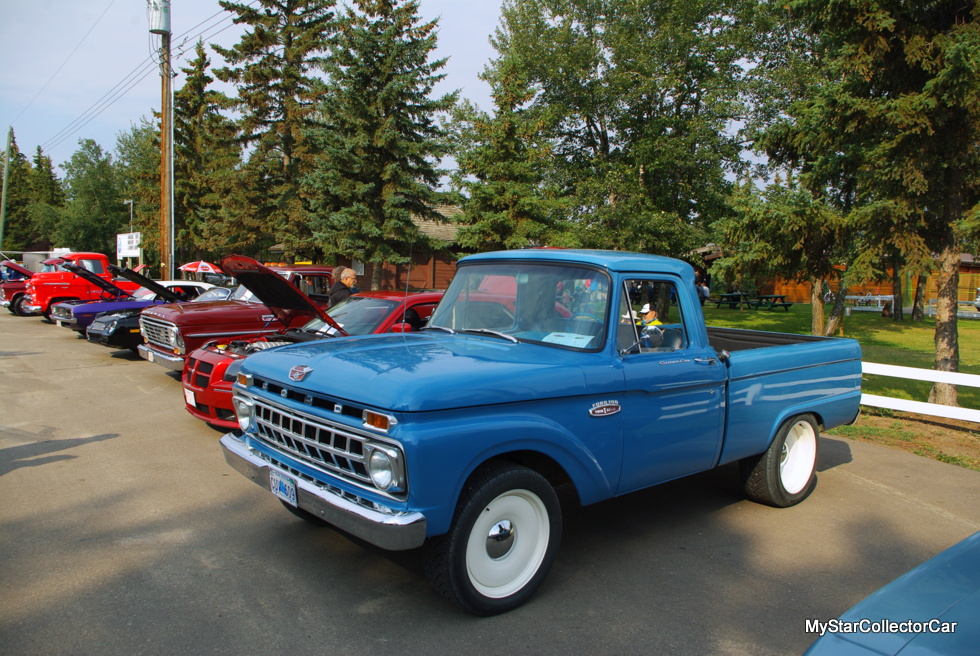 By: Jerry Sutherland
Jerry Sutherland is a veteran automotive writer with a primary focus on the collector car hobby. His work has been published in many outlets and publications, including the National Post, Calgary Herald, Edmonton Journal, Ottawa Citizen, Montreal Gazette, Saskatoon StarPhoenix, Regina Leader-Post,  Vancouver Sun and The Truth About Cars. He is also a regular contributor to Auto Roundup Publications.
Please re-post this if you like this article.