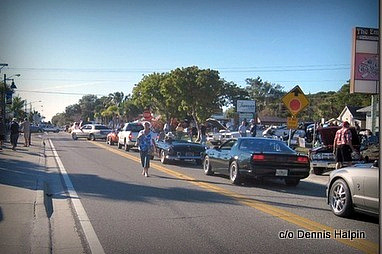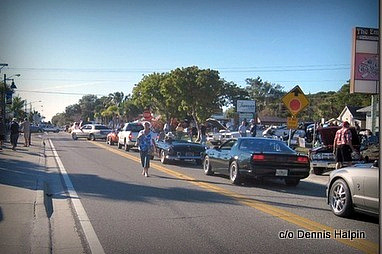 A LOOK AT A TYPICAL DAY AT A CAR SHOW IN THE SUNSHINE STATE OF FLORIDA
Dennis Halpin is a long time MSCC reader and self-admitted Florida car guy with a passion for the old iron.
He thought it might be a good idea to give northern car guys a little ray of Florida sunshine so he took his camera to the weekly car show.
Here are some examples of what car guys do in non-frozen environments. Dennis was kind enough to add his comments to the pictures.
"I told you I'd get around to this some day. Perfect day for a car show, 75 degrees and sunny. Probably 200 cars, here are some of the highlights".
"'Go fast' 351 Windsor powered, 71 Pinto. No, you're not seeing double. 2, white 64 Pontiac Bonneville Convertibles."
"It's not often you see a a 'blown' Austin, with a matching (father and son) 49 Harley 'Panhead' as an accessory. There's a 'stroker' Chevy 383 small block under there somewhere?"
"Graham 'resto mod', (sorry about the glare, didn't notice that at the moment). 1929 Austin. (English version of the Model T?)".
"Here's that 49 Merc 'Woody I was telling you about. $$$$$ "Lead Sleds' well represented, here's one example".
Custom, antique and Hot Rod cars all the way to the coast, (down there where the trees end). Like I said, these are just some of the highlights. Naturally, there were the usual 68 Camaros, Vettes, Dodge Chargers, Hot Rod Roadsters and the like.There was a 60 Chevy Station Wagon sitting next to my car that only had 28,000 miles on it!"
Obviously this show would look better in person to those of us who fight frostbite for 7 months straight but thanks to Dennis, we can see that the car hobby is alive and very active in places with a civilized winter climate.