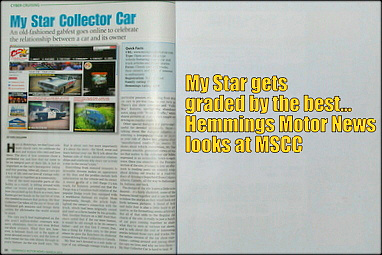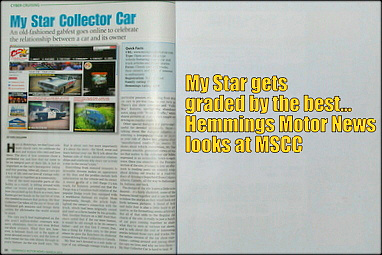 Regular MSCC readers know Tom McCahill was my biggest automotive journalist influence back in the 1960s.
He was irreverent, colorful and he could turn phrases like "hairier than an ape in a fur coat" into an art form.
That's one example of how Uncle Tom described his experience behind the wheel of a test car so this guy's prose easily reached me when I was 9 years old.
Tom McCahill has been gone since 1975 but I filled the automotive journalism deficit he left behind by accident in the early 1980s when I picked up a copy of Hemmings Motor News.
I was fresh out of university and I was in a lengthy, tire-kicking search to find a late 50s Exner fin car. Hemmings had page after page of fin cars for sale but they also had many other value-added features like tech articles, auction results and op-eds that really spoke to my "fresh out of university with English degree/car guy" mix.
Hemmings writes concise, colorful, informative and well-edited pieces that educate and entertain at the same time. These guys can draw you into articles on everything from '53 Chevys to a 1935 Hispano Suiza K6B Brandone Coupe and leave you far more informed about both cars after the experience.
I found out I would typically spend most of the month reading these articles and wading through the thousands of ads because Hemmings lists everything from Model As to vintage popcorn machines.
One of my favorite sections is when HMN goes to an auction and gives a short, informative, professional and entertaining assessment of an auction car or truck. This is the ultimate example of a "less is more" writing style because you come away with an intimate knowledge of the vehicle via a short,concise paragraph. That is one of the most difficult hurdles to overcome in written or verbal communication and it's a hurdle that most people can't clear.
Hemmings does it with ease.
Hemmings Motor News represents the gold standard for automotive journalism so we try to measure everything we do at MSCC against their professional written content standards. I'm realistic enough to know that I can't do better than HMN but I'm also arrogant enough to believe that I can run at their level on a regular basis.
MSCC is relatively new (April 2 2009) but Jim and I celebrate the same birthdate (1954) as HMN . We're a couple of car guys who operate off the beaten path in central Alberta, Canada so the car hobby spotlight is often focused on more populous areas in North America.
That's why we were taken aback when Hemmings Motor News dedicated a whole page in their CYBER CRUISING section to MyStarCollectorCar. They are the automotive equivalent of the New York Times or Sports Illustrated so their professional assessment is like getting Tiger Woods to analyze your golf swing or Richard Petty to critique your driving.
It was one of those Sally Field at the Oscars "you like me you really like me" moments.
That's why this is a big deal. Uncle Tom McCahill is long gone so he can't give me advice but Hemmings Motor News easily filled the gap with their professional assessment of MSCC. It wasn't a 100% passing grade because they loved the content, but they pointed out a few technical format issues.
But it was the kind of grade I would have been happy to lay on my parents back in junior high…a grade that made the day for a guy who started reading car magazines in Grade 3.
Jerry Sutherland