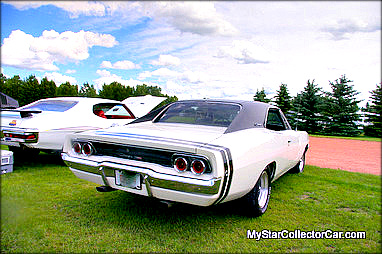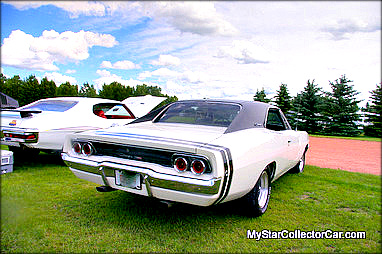 The 1968 Charger is the pinnacle of automotive design for an army of B-Body Mopar guys.
Dodge got this one right and most Mopar fanatics list the '68 Charger as a top 5 favorite.
Vern Landals has restored many cars over a lengthy period of time and the list is wide and varied.
He's done a 1956 Cadillac, 1964 Impala 409, 1965 Thunderbird, 67 Charger, 70 Cuda and a 69 Hemi Super Bee.
This 1968 Charger is his last one…in theory.
Surprisingly, Vern admitted that the '68 Charger was his second choice because he was looking for a '71 Barracuda.
The Charger was originally from Oregon so it was relatively solid. Vern said "the front end was pretty good but the back part needed a fair amount of work".
Despite his vast experience in the restoration world, Vern admitted "they're always intimidating at the start because you learn as you go about the car's condition".
Vern did call an audible on this project when he built a rotisserie for the Charger. He admitted "this is the first time I've used one. Can't believe it took this long because you can get to any place so easily and all it cost was 300 bucks worth of steel".
Vern was involved with every facet of the project to the point of final finishing and paint. Most car guys admit that it takes an artist to do the last cosmetic stage of a car rehabilitation.
He rebuilt the engine, transmission and rear end so the Charger is back to factory spec  330 horsepower…or better. Vern reported that "it runs like a top and it has a ton of power". This steed can really gallop but Vern would like to retrofit an A58 transmission "for better gas mileage". Nobody cared about mpg back in the psychedelic 60s- gas prices in the 21st Century changed that attitude.
Vern's retirement from car projects gave him an avenue to actually enjoy this final project so he's started to make regular appearances on the local car show circuit.
This big white Charger is always a popular sight at any show so Vern exercises infinite patience with an endless series of questions-the life of an owner at most car shows.
Vern doesn't stray too far from home because he's afraid to "leave it overnight". That is a fear that is, unfortunately, far more realistic in today's world-especially with the popularity of the 2nd Gen Dodge Charger.
Vern had some post-project reflections. He's glad that he added the stripe "because you can always take them off" and he only regrets selling one car-the '69 Hemi Super Bee.
Finally, some questions surround Vern's assertion that this classic Dodge is probably going to be his last project.
He admits, "my son found a 70 Cuda…"
Jerry Sutherland
Follow us on Facebook-http://www.facebook.com/MyStarCollectorCar
Follow us on Twitter at- https://twitter.com/#!/MyStarCollecto1