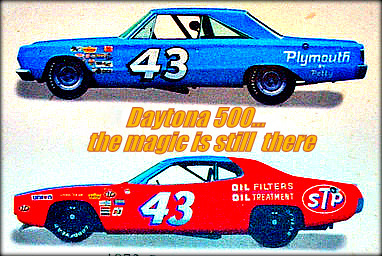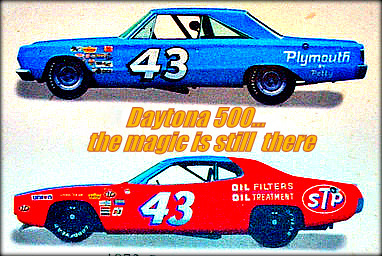 The Great American Race will unveil its 54th version of the Daytona 500 this weekend.
Maybe the track cars no longer follow the "win on Sunday-sell on Monday" mantra of the past, but the Daytona 500 is still one of the very big events on the annual sports calendar.
Think Kentucky Derby with horsepower instead of horses.
Fact is the two-door coupe race versions are not even available at the dealerships and the modern 500 lineup includes a very competitive Japanese race car. This is definitely not Richard Petty and David Pearson's Daytona 500 where a herd of American models that included Pontiacs, Plymouths and Mercurys sailed around the high bank super speedway.
But it is still the Daytona 500 and every driver in NASCAR wants to win this race. If they accomplish nothing more in their career they want to win the 500-just ask Michael Waltrip, a driver with a modest race career beyond a strong TV presence and 2 Daytona wins. Mikey is a star and the Daytona wins put him in the fast lane for the rest of his life.
Sure there is a Pete Hamilton (1970 winner) and a Derrike Cope (1990 winner) that faded from the Daytona 500 winner's circle spotlight very quickly after their wins, but they will always belong to a small but elite club of Daytona 500 champions. It is a very exclusive kingdom ruled by a benevolent monarch named Richard Petty, a seven time Daytona 500 champion.
There are highly talented drivers like Mark Martin and Tony Stewart who have never captured the checkered flag at the Daytona 500. Stewart has a solid opportunity to join the club but Martin's ship may already have sailed in his lengthy career.
The legacy of Dale Earnhardt at the Daytona 500 will always carry happiness and heartbreak because of the way things ended for the Intimidator on that dangerous speedway. But Earnhardt did find his way to the winner's circle once in his career and all of NASCAR celebrated with him in 1998.
The long history of the Daytona 500 will continue to invite only a chosen few into its championship ranks. Maybe you can no longer win on Sunday and sell on Monday with the modern multi-million dollar engineering marvels on the track, but the race is still a huge event for car guys.
It is even a bigger deal for the guys behind the wheel.
Jim Sutherland
Plenty of automotive insight at-https://www.mystarcollectorcar.com/