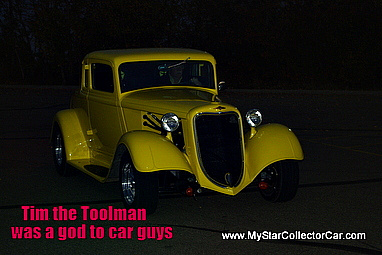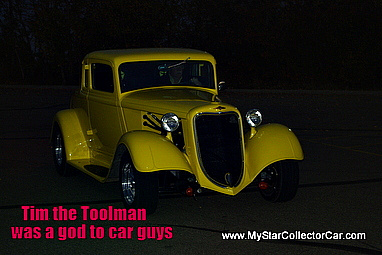 Imagine a funny TV show based upon the antics of a car guy/family man with a serious and uncontrollable car addiction.
The 90s had a show with all of the above and it was a runaway hit with every car guy in North America.
'Home Improvement' was a TV show that mined its comedy from the world of a car guy who had to balance his family life with his hot rod heart.
Eventually Tim the Toolman Taylor (Tim Allen) would do the right thing in every episode, but 'Home Improvement' was always very funny because it was based upon the obstacles faced by car guys in real life.
Tim did two major projects in his garage during the show's run and viewers watched the progress every week for years because the show was on the air for almost the entire decade of the 90s. The first was a custom 1933 Ford roadster that was fun to watch while it was completed over the first few years of 'Home Improvement'.
The hot rod was an ongoing point of contention between Tim and his lovely TV wife Jill (Patricia Richardson), a woman who was more than a match for the Toolman during the show's long run. One of the problems with an attached garage that houses a car project and nothing else is painfully evident in winter for most car guys. The show was set in Michigan, so garages are pretty useful for most women if they house a car that gets used every day. Not so much when they house a car project.
Tim complicated matters when he gave Jill a 1955 Chevy Nomad for an everyday driver car; a project that was already completed before the show even began on TV. He became an instant god for every car guy with this bold move, but an old car in the hands of a skeptical bride is a dangerous game, although we know of one real life family in our area that really use a 1955 Chevy as their kid-hauler.
One of the most poignant "Old Yeller" moments in the show was the day Tim sold his beloved '33 Ford in a spur-of-the-moment decision that he later regretted in a huge way. Car guys all over the world felt his pain when he was unable to buy back the car from the new owner.
However he did end up with a new project when the guy sold him a 1946 Ford convertible that needed a complete ground-up restoration. This was a great moment for car guys because Tim was able to bring a new project into the mix and he was able to show that magic car guy moment when his oldest TV son Brad (Zachary Ty Bryan) got interested in the car project. Father and son car guy moments are gold.
One of the more interesting plots in 'Home Improvement' was an episode where Tim found his first car, a 1966 Corvair Corsa, and wanted to save it from a grim date with the crusher.
He met serious resistance from Jill and was unable to save the car from destruction, even after Jill changed her mind and allowed him to buy the Corvair. He was too late.

Jill felt so badly about the car's death that she bought a replacement Corvair for Tim and his reaction was another indication that the Toolman was a true car guy because he explained why he did not want the replacement Corvair.
The original Corvair was Tim's first car and the replacement was simply another car to him. He had no memories or experiences from his younger days with the replacement car and it meant nothing to him.
We occasionally run into very lucky car guys at shows who have been able to reclaim that special car from their younger days and we understand why they invest so much money in the vehicles. Tim's message was crystal clear when he explained that philosophy on the episode. He summed it up like a true car guy, "It's not about the car, it's about what it represented".
Another classic car guy moment occurred in the TV show when Jill bought a 1967 Austin-Healey without Tim's approval because it opened up a hidden secret closet for car guys who are dedicated fans of Detroit's finest, yet still like some of the imports. It also showed that Jill was a car girl, even though she did not want to admit it to herself.
The beauty of 'Home Improvement' was that it gave every car guy a personal hero on TV; a guy we totally understood from the very first episode.
There will never be another TV god quite like the Toolman for car guys.
Jim Sutherland