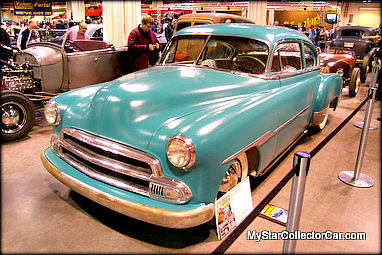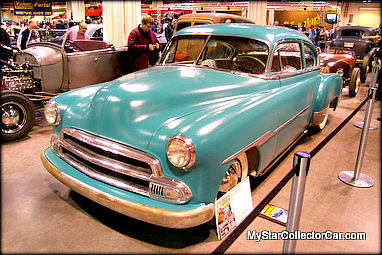 Dave Iggulden has an inner "old school car guy" even though he's a young man.
You could attribute this inner car guy to DNA or you could attribute it to environment, depending on which "nature or nurture" school of psychology sparks your interest.
In Dave's case, both reasons are valid because his old school drag racer grandfather supplied the DNA and the experience around old iron.
That's why this 1951 Chevy Fleetline came into Dave's world.
Dave was born decades after the iconic hot rods and rock and roll era of the 1950s but he had a great time travel guide – his grandfather. Dave's grandfather was there the first time around when cars like this were built on a budget so the details are incredibly accurate. In fact, Grandpa drove a '40 Ford with 1st generation Mopar Hemi back in the day.
Dave picked this car up from a family who never got around to the actual project side of the old Chevy. He mapped out a game plan for the car based entirely on how a guy his age would have approached this car in 1957. Most of the 50s hot rod philosophy is based on one theme-do it on a budget.
In other words, build it with your own hands and use parts cobbled together from junkyards (they call them recycled parts in 2012). Most guys back in the 50s stuck to the "run what you brung" mantra so they would likely build up the stock 6 cylinder that came with the Chevy back in 1951.
Dave was no exception. He built up the old stove bolt 6 to full race status by boosting the compression and tweaking the carbs. He stuck with the three on the tree manual and that probably makes him one out of 100,000 in his demographic who actually knows how to work this type of shifter.
He wanted a little more punch at the start so he swapped out the stock rear end for a 4:11 gear. When asked if this made the car work harder on the highway he said, "it's not bad, it starts to scream a little around 70 but it's no problem".
Dave wanted to maintain a blend of custom and stock in this old Chevy so he extended the quarter panels by five inches to give it that personal style look with 1950s guidelines. The rest of the car a kept relatively stock because Dave admitted that he liked the side trim on the car, "some guys get rid of it but I like it". He also kept a pretty basic interior because "guys in the 50s didn't really want comfort over style and door panels are just extra weight".
The Chevy is so barebones that he didn't even fix the radio after a 12-volt boost blew up the stock 6-volt AM receiver. Dave prefers to "listen to the engine on the road". Most car guys can relate to the on the road adventure side of old iron-it's almost a rite of passage in the experience. Dave had his rite of passage when he blew up the factory six-banger in the 61-year-old Chevy. He attributed this to an oil filter failure but his grandfather taught him well-you get over that catastrophic failure in seconds and build another engine.
This old Chevy Fleetline is more than a car. It's an affirmation that a new generation of old school hot-rodders will pop up despite membership in a demographic that embraces a computer generated world over a "get your hands dirty" world.
The future is in good hands.
Jerry Sutherland
Follow us on Facebook at-http://www.facebook.com/MyStarCollectorCar
Follow us on Twitter at- https://twitter.com/#!/MyStarCollecto1