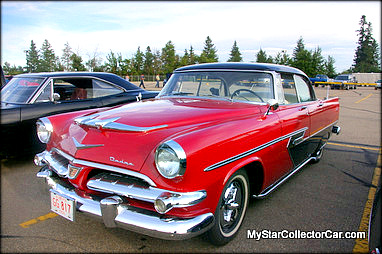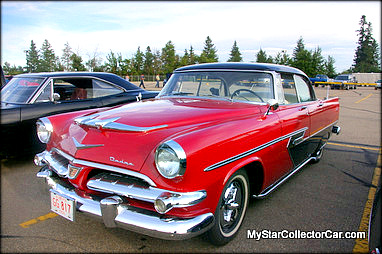 Astute car guys and every Mopar fin car guy will immediately spot the Canadian heritage of this '56 Dodge.
That's when Chrysler used to graft Plymouth sheet metal to the back end of a Dodge-hence the nickname "Plodge".
Most of these cars were sold in Canada but the occasional "Plodge" can be spotted in export markets like Europe or Havana, Cuba.
This particular example is quite rare because 4-door-hardtop 1956 Canadian Dodges are practically extinct.
Randy Screpnik bought this old Dodge for the purist of reasons – an extreme case of nostalgia. He was 7 when his father brought home a brand new '55 Dodge. He recalls, "I liked that style ever since they came out and I still remember that brand new smell in the car". Clearly the new '55 Dodge left a lifetime impression.
Randy saw this car at a show and he admitted, "It was exactly what I was looking for". Randy bought the car and settled back into a wave of nostalgia behind the wheel of this classic "Forward Look Dodge".
The finned Dodge is one of those show stealers because every head turned when Randy and his kids rolled into a show. The Mopar fin cars were fairly common back in the 50s but now they are like Bigfoot sightings – a few guys claim to have seen them but there's little solid evidence that they exist in 2012.
Fortunately this one does exist and Randy was happy to elaborate on the driving experience. He reported, "it's rides real smooth, it's great on the highway, cruises nice at 100-problem. I use the GPS to ID the speed". Randy's reference to "100" is 100 kilometers an hour (approximately 62 mph) because back in 1956, Canadians still used miles as a measurement. The GPS saves that nasty "I couldn't convert miles to kilometers" speeding ticket.
The '56 Dodge has displayed some typical symptoms of old iron. Hot days make it run like a tractor with a loose spark plug wire so Randy had to limp home with his kids after an ice ream outing. Another junket ended up with a puddle of antifreeze on his garage floor when Randy got back but he's philosophical about that, "it could be a cracked head but it happened once before so maybe it's okay".
These are not big issues for Randy because he is truly enjoying the experience behind the wheel of this old Dodge plus he's exposing his kids to a facet of his own childhood. He's going to take care of the little details in the car such as the non-functioning radio but essentially this car will remain stock under Randy's watch.
Part of Randy's lifestyle is a huge nod towards nostalgia so another member of his fleet is a vintage Western Flyer bus. This classic old unit is now a motor home and he'd like to haul the '56 Dodge behind it as a total retro-holiday package. The problem is as Randy acknowledged, "the old diesel in the bus spews oil so I'd have to figure out how to protect the Dodge if it's behind it."
Randy is the kind of guy who will solve that problem because the old Dodge is such a huge part of his past he'd love to take in on vacation…
And build some more classic Dodge memories for his kids.
Jerry Sutherland
Follow us on Facebook at-http://www.facebook.com/MyStarCollectorCar
Follow us on Twitter at- https://twitter.com/#!/MyStarCollecto1