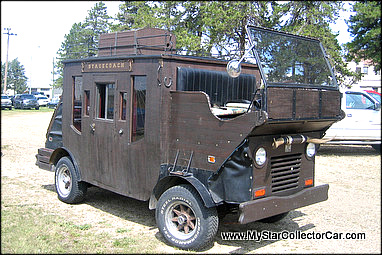 We attend a lot of car shows every year and this unusual vehicle was arguably the most unusual set of wheels we have ever seen at a show.
It is a stagecoach and it is indeed a horseless stagecoach. All of the horses are found in the 1980 IHC engine hidden from view in the coach.
This stagecoach is legally registered to be on the road. We know that to be true because we were curious about the license plate and a helpful Mountie checked the plate for us at a summer car show. He found out that it is built on a 1980 IHC Scout VIN number and chassis.
We had some degree of difficulty tracking down the stagecoach driver until he saw the police car at his stagecoach. He was concerned that there might a problem and we were happy that the Mounties really do get their man when we got our chance to meet the driver.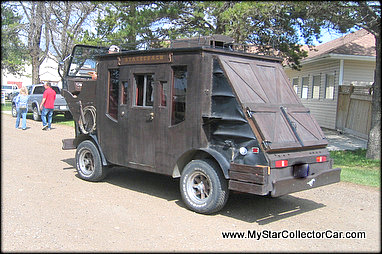 It turned out that he was a caretaker for the coach that weekend because his son was the owner of the stage coach and his son Brent Kusch was given the reins and title to the stage coach from his boss, the original owner. The coach was in a parade in the little town that hosted this car show the weekend that we discovered it.
Actually, this stagecoach had been in many famous parades like the annual Calgary Stampede and Grey Cup festivals. This year is the 100th anniversary of the Grey Cup football championship and this stagecoach has been at 15 of them since it was built in 1985.
Grey Cups are the ultimate party zone and this baby would have to be the ultimate party wagon. It seats six very comfortably and in grand style. It really does look like a stagecoach and there were many eager volunteers to ride around in it that day.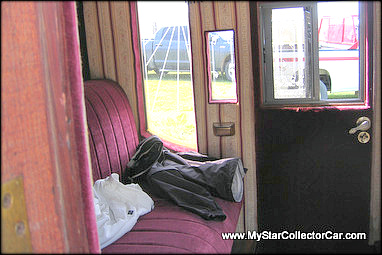 There were 30 of these coaches built and their small production numbers mean that very few people have actually seen one live and up close, so we feel very fortunate to have an opportunity to be among the chosen few to see one on the road.
The stagecoach is licensed to travel down the highway, but it is not exactly a speed demon and one would really have to think about testing its stability in a strong wind because of top-heaviness. The driver sits up in the same position where a conventional driver would hold the reins to a team of horses.
Brent had a steering wheel instead of reins in his hands and the foot pedals were not obvious for onlookers unless you climbed up and looked for them. The real amazing part of the equation was the moment that he drove away in the stagecoach with a full load of passengers and a buddy riding shotgun up top with him.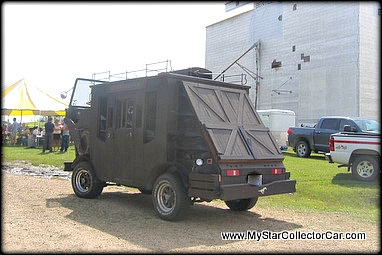 Fans of old "dusters" will already know that the term "riding shotgun" came from the stagecoach era of the Old West when a guy with a rifle or shotgun sat up top with the driver as protection against robbery. These days "riding shotgun" would be just for fun and we can think of no vehicles where it would be more fun than this show stealing motorized stagecoach.
Especially during a Grey Cup week.
Jim Sutherland
Follow us on Facebook at-http://www.facebook.com/MyStarCollectorCar
Follow us on Twitter at- https://twitter.com/#!/MyStarCollecto1 
Follow us on Pinterest at- http://pinterest.com/jerrysutherland/classic-iron/