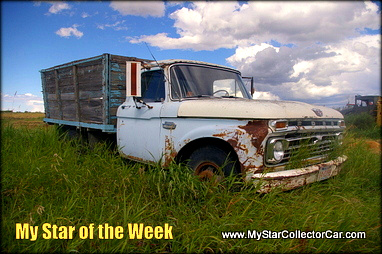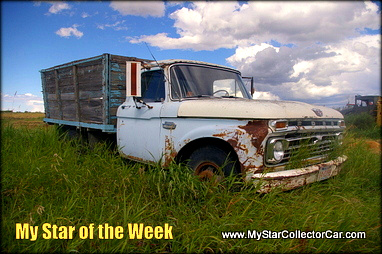 FEBRUARY 10 STAR OF THE WEEK: AN OLD FORD FARM TRUCK SUMS UP ALBERTA
Regular readers of MSCC know that many Stars of the Week are in less than pristine condition.
There are many reasons for this but the biggest factor is the built-in character found in a vehicle that's clearly on the back nine of its life history.
That's never more evident than in a scene like this.
This old Ford was a working vehicle on a farm in central Alberta Canada.
Alberta is an area that was built on determination, long days and hard work so trucks like this Ford probably spent every day of its life under load.
Loads like livestock, grain, farm supplies and manure…probably all in one day.
When the time comes for trucks like this to quit working, it's a brief retirement ceremony. The old Ford is either towed or driven to this 2nd last resting place with an incredible Alberta landscape as a backdrop.

The last resting place isn't quite as beautiful. It comes after an auction at the farm when this old Star of the Day gets loaded up for scrap metal.
FEBRUARY 9 STAR OF THE DAY: 1948 IHC-GETTING TO A FIRE AT WARP DRIVE
This 1948 IHC truck is a great example of an extremely visual community effort.
The Camrose (Alberta Canada) Firefighters Association put this bad boy together for PR appearances at various events in the area.
This truck is a monster with a 468 cubic inch Chevy big block that pumps out 650 horsepower. That will get you to a fire before the other trucks have cleared the doors.
This was a group effort inspired by the fact that the local guys went to local 100 foot shootouts for fire suppression and decided that the department should run something in the competition.
It's very cool truck and it's been a great promotional tool so it's already a celebrity but this MSCC Star of the Day role just makes stardom official.
FEBRUARY 8 STAR OF THE DAY: 1960 BUICK ELECTRA CONVERTIBLE-MADMEN COOL
This Buick Electra convertible was at a show back in the Summer of 2010 and it really defined what a Madison Avenue guy would have driven back in 1960.
This Buick was a large presence car.
In 2013 executives drive understated cars like a Lexus, Lincoln or Cadillac but 1960 was an era when you drove by your neighbor's house in a big, bad Buick Electra convertible and made him feel just a little smaller.
This Star of the Day would turn him into the "Incredible Shrinking Man".
FEBRUARY 7 STAR OF THE DAY: '59 DODGE CUSTOM ROYAL CONVERTIBLE IS TIMELESS

This shot was taken over ten years ago so that explains the fact that this was scanned from a photograph. The subject matter was timeless…a '59 Custom Royal convertible.
These cars have appreciated in value faster than an ounce of gold in the last ten years so cars like this are rarely seen at smaller shows like this one back in the 90s.
The car was part of a November 2010 MSCC Stars of the Show but it deserved a comeback in 2013.
Star of the Day-the cool factor found in old photos.
FEBRUARY 6 STAR OF THE DAY: JAGUAR-FROM THE RARELY SEEN AT CAR SHOW FILE
There's no doubt that North American car shows are dominated by Detroit iron because we grew up with these classics. There isn't a kid around who didn't want a GTO, GTX or GTA because that's what we saw on the street.
Cars like that conjured up dreams about being the biggest, baddest 11 year kid that ever drove a 425 horsepower street monster.
Very few kids had the same dreams about a classic Jaguar
Yet this vintage Jag had a herd of guys around it in 47 seconds when pulled into a show back in 2010. It was an MSCC Star of the Day performance and it drove home an obvious point.
Cool comes in many forms.
Take a look back at an MSCC classic Jag story from October 2010.
FEBRUARY 5 STAR OF THE DAY: A COUPLE OF MOPARS AND 2 ATTITUDES-'70 DODGE & PT CRUISER CONVERTIBLE
This picture sums up the recent past and the classic past in Mopar world. The '70 Charger really needs no explanation because it is a legend with the Dodge boys.
The PT Cruiser is a work in progress on the icon front.
Before this turns into a free fire zone on all things PT Cruiser, bear in mind that they were unique in the late 90s for their retro styling.
They had a waiting list for a reason…they were cool.
Convertibles like this PT Cruiser had a fairly short run because the design had run its course but it's safe to say that 25 years from now they might have a solid following.
In the end it's always about the MSCC Star of the Day and to nobody's surprise, it's the Charger. Check back in 25 years about the Cruiser 'vert.
Here's a look back at an MSCC '70 Charger story.

FEBRUARY 4 STAR OF THE DAY: 1966 CHEVY TRUCK- A POST CAREER COMPANY TRUCK
Company trucks have evolved since this 1966 Chevy hauled parts for a farm machinery company. This one was actually a reasonably high-end ride because it actually had a V-8.
Trucks like this typically end up in the back 40 of a company yard until one day it gets hauled away for scrap.
Fortunately this one didn't end up as ballast in the back of a big truck.
One of the reasons might be the immense popularity of these mid-60s Chevy trucks or it might be simpler than that.
They just couldn't bale this old workhorse because it was so dependable.
That's the kind of history that makes this an easy pick for MSCC Star of the Day.
For a closer look at this old Chevy, take a look at a January 2012 MSCC article on this former employee.
Here's a link to past Stars of the Day.