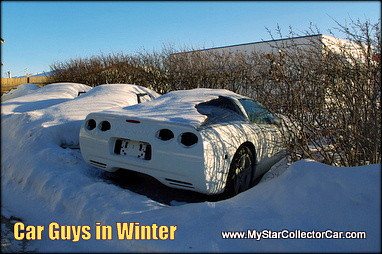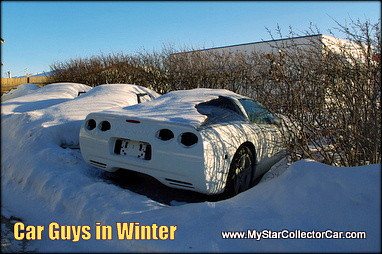 We at MSCC live in a part of the world with real winter.
We live in a frozen paradise where winter is like an unwelcome visitor that stays too long, raids our fridge and drinks all of our beer.
Winter has a brief moment around Christmas where it is welcome and then it sinks back into a long run that will not end until late April at the earliest in our region.
Winter sucks, but most car guys have a game plan to alleviate the effects of the long season between car shows. Most car guys do their best work in winter, largely because they have a lot of spare time and can tweak their cars or start a major new project.
Time is on their side where we live, because they can hunker down in their garages or shops and wrench on cars for many months on end with our very long winters.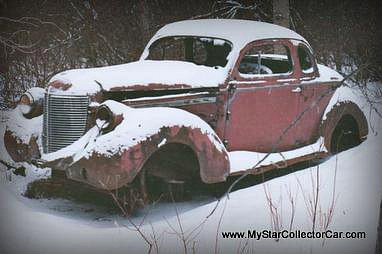 Car guys can catch all the car auction action on TV, or attend a few auctions live and in person in their area. There are major indoor car shows that are annual events held every year in frozen wastelands like ours that offer a pretty good car show at room temperature.
Swap meets are also a good way to connect with the car culture in the dead of winter. Swap meets may look like a giant room filled with junk to the untrained non-car guy eye, but they are sacred gatherings for car guys looking for more pieces to complete their car project puzzle.
Sure some of the sellers are dreaming in 3-D Technicolor when it comes to their prices, but there is always room for movement by both parties.
Some guys hold shop parties to get the boys of summer together and talk about their rides. They definitely all look a little informally dressed without their cars, but everyone is glad to see each other and all of them look forward to time back on the street with their cars.
Most car guys are not fond of winter because it takes them away from time behind the wheel of their rides. However winter is also the time when most projects are born and built by car guys, so we can grudgingly say that the long, cold and dark season is one of the very best friends of a car guy where we at MSCC live-about three doors down from Santa Claus. Car guys have plenty of idle time to finish the job.
Winter: Sure we could live without winter where we live, but there would be many more half-finished car projects on the road if winter was not a giant road block of ice.
Jim Sutherland