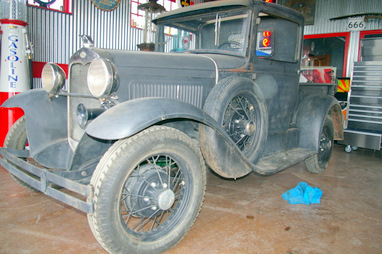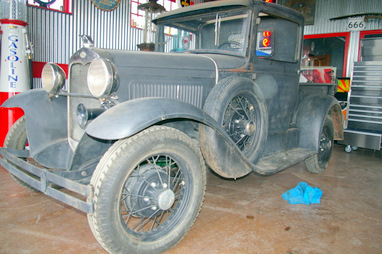 Scott Shaw is a guy who was born several decades too late-he's a young guy with a growing family but his heart is clearly found decades in the past. Several decades.
'Scott's automotive nostalgia reaches back to the Glenn Miller era of swing music and he's a guy who has definitely made a big investment in the past.'
This 1931 Model A pickup is symptomatic of Scott's commitment to a bygone era-"I think the model A  was the foundation that other cars were built around!"
Scott is definitely a big picture guy because he likes to analyze how this Depression-era workhorse fit into the 1930s automotive scene as a whole.
Scott found this old truck in typical car guy fashion-digging around in old sheds on remote farms-"the truck came from Sask-it was in a hay shed for 50 years. I have done lots to the old girl, drive train, some body work."
Scott did most of the work himself because he has the talent, plus he realizes that old vehicles are a very personal investment- you can't get much more personal than getting your hands dirty on a project "I did do all the work on the truck except the machining of the motor parts".
Skinned knuckles are a rite of passage for car guys.
He sees the old car hobby as a family activity "We use it as much as possible, lots out west camping. My kids love the old cars, no seat belts! They have both grown up around the model As and love them all. The model A truck and rat rod will never be for sale."
Scott hauls the old truck behind a vintage commercial bus on longer trips "I haul the truck behind the bus and then we drive it out on the trails!" Scott's a really busy guy so he needs the extra time to enjoy the old truck on the recreational end, so the bus gets him there a lost faster.
That gives him more time to do what he really wants. Have fun with his kids.
Most old car guys commit to the era in which their cars were built, but Scott takes that concept to the next level. He builds custom-made state of the art vintage diners that would look right at home beside Route 66 in 1935. He's resurrecting the drive in theater concept and his business site is a trip down memory lane with a vintage gas station look.
More on that later, but for now Scott is truly enjoying life in the past…a past that came decades before he was born.
And he's driving there in a 1931 Model A truck.
Jerry Sutherland