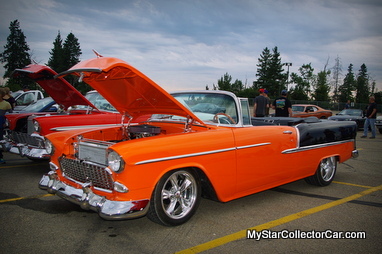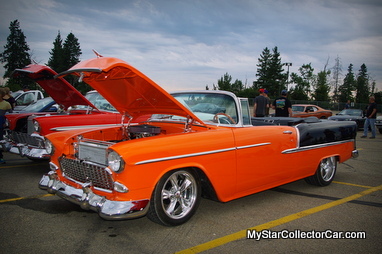 There are many reasons to take on a car project.
They range from blindly sentimental to opportunistic but one of the biggest reasons is history – The kind of shared history you see in a birth year.
Gary Johnson shares a birthday with this incredible 1955 Chevy convertible but he admits "this car's in a lot better shape".
The 1955 Chevy is in the same league as Marilyn Monroe and Elvis Presley because all three are 1950s icons that became icons at roughly the same time. Gary liked the idea of owning this automotive legacy and his search began in a very unusual manner.
Gary admits his big car adventure began in the most unusual manner because few car stories begin with the words, "my wife actually found it". This is akin to running into Bigfoot and three leprechauns at a local nightclub.
This car was a ten on a scale of one to ten for difficulty because there was very little left of the '55 Chevy when it was disassembled and evaluated as a project. There was a thin ribbon of metal left along the top of the quarter panels where a complete car used to be when it was in the original state.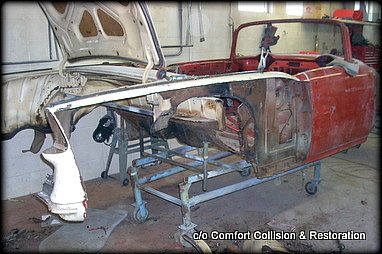 Obviously, in car project terms, this was in the same league as raising the Titanic and working with what was left. Anything that once resembled a '55 Chevy was reduced to the concept of a '55 Chevy.
Despite the abundance of parts for '55 Chevys, these convertibles present special challenges because they are not exactly like a sedan or hardtop.
The key to success is an abundance of patience and talent when a tricky restoration is on the table.
Gary chose Trevor Comfort at Comfort Collision and Restoration because, as he explained, "Trevor's really into that 50s stuff and this was a big job so you want a guy who lives and breathes it. I wanted to keep it with a resto-rod look".
This was a three-year project because the extent of the job and the modifications required were massive but the end result is one of the most spectacular '55 Chevy convertibles on the planet. Jeremy Shipley is part of the Comfort Collision team and he laid down the paint plus he spent days wet sanding and polishing the car to get it to perfection.
Tri-five Chevys are incredibly popular and they attract people like moths to light but this orange and black beauty was in a league of its own. Gary could have roped off the car and charged admission because there were throngs around this '55 Chevy at two separate shows last summer.
Gary is an extremely busy guy but he thrives on the time he can spend behind the wheel of this classic bowtie, "It's only got 360 miles on it so far but it's been a lot of fun to drive-especially on the highway".
Clearly the car is far from stock but it retains a '50s cool with its incredible two-tone paint. A look under the hood reveals how non-stock this '55 Chevy is, as Gary explained, "That's a 572 big block under there because this is a show and go car".
Some of the new toys underscore how much go there is under the skin of this classic Chevy, " There's a Mustang II front end, it's got a 6-speed Tremec transmission, Strange rear end and a line lock so yes, it does a great smoke show".
Last summer was a shakedown season for the '55 Chevy but it inspired Gary to really appreciate what an iconic classic is all about and he was clearly mapping out destinations for his ride, " I've had it out on a 180-mile round trip and I'm looking forward to the Radium show".
The last question was two-fold because it involved the keeper status of the car and whether Gary's wife would ever drive the car. Gary was unequivocal on both points, "I'm going to keep it forever and she wants to drive it but the manual brakes keep her from driving it so that could change".
Gary's '55 Chevy story ends where it began-with full spousal support from his wife. That's incredibly rare but he summed up her support with one simple sentence.
"She's onside with it for sure".
Jerry Sutherland