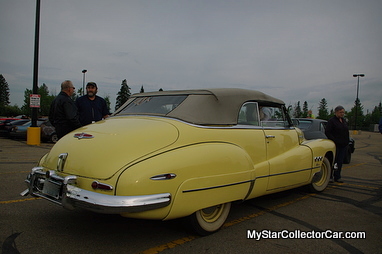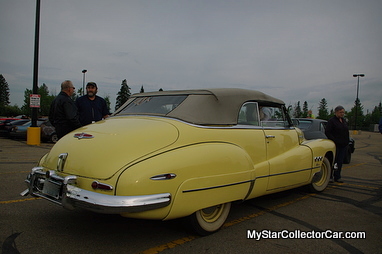 I am a huge fan of late 40s iron from Detroit and an even bigger fan of the convertible versions.
The post-war style and lines of the cars really lent themselves to the convertible models in my humble opinion.
I will chase down any opportunity to interview an owner if I see one of these drop top beauties from the late 40s on the street or at a show.
These classy rides are very rare, particularly in their original configuration as a stock model.
I spotted an original 1947 Buick Super convertible at a 2013 spring show and headed directly toward its owner to get the story behind the car. Jim Stuve is its current owner and he has always liked the old Buicks.
Jim has owned plenty of vehicles over many decades, including a 1933 Buick, and he lept at an opportunity to buy the '47 Buick convertible.
Its last owner "was getting on in years" and "wanted Jim to buy it", by Jim's account. In fact, the previous owner felt that "nobody else should own it", according to Jim.
Jim went for a test drive in the Buick and "loved it" in his words. He immediately bought the car and made everybody in the equation happy with his decision to purchase this stylish drop top.
Later, Jim found out that his neighbor's uncle once owned it, so the car has been a part of a few peoples' lives over its 66-year history on the road.
I mentioned how I leaned toward originality when it comes to these 40s convertibles and Jim assured me his Buick was an original car. It has an OHV straight 8 and a three-on-the-tree manual transmission.
Jim called the straight-8 "two Datsun engines one in front of another", but it is actually a pretty solid performer from the early days of post-war overhead valve eight cylinder engines from the General.
The straight-8 has been rebuilt and Jim has put a lot of miles behind the wheel headed to car shows in the western US and Canada. He finds the car is very comfortable at 55-60 mph on the highway and will run all day at those speeds.
The sight of a stylish old 1947 Buick Super convertible on the road "commands a lot of attention"; an understated observation from Jim about his time behind the wheel of the car.
The only issue he has encountered is the hydraulic pump for his convertible roof. Jim had it rebuilt and found it to be a little slow after the re-build.
A convertible roof is a large part of the car's appeal in good weather, so Jim wants to make sure it works well in the top-down position on a warm sunny summer afternoon.
Top up or down, this rare old 'vert from 1947 is in good hands because Jim loves to drive it.
Clearly, he loves the road experience behind the wheel of this classic convertible from the Buick stable.
Jim Sutherland