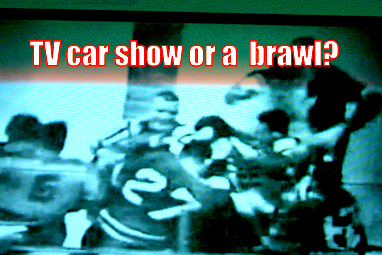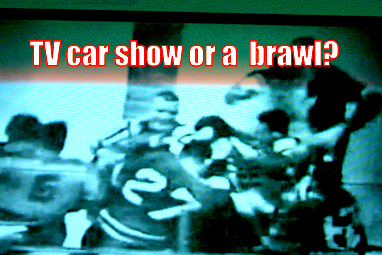 'Car Warriors' could have been a contender.
It had a chance to blaze its own trail in car guy TV world, but instead it chose a well-worn path.
'Car Warriors' is a warmed –over version of a tired concept of imposed deadlines and bad behavior for the camera.
The sad part is 'Car Warriors' promotional commercials advertise the show with bleeped-out "conflict" segments that are vying for the coveted Teutul Award for child-like behavior from middle-aged men.
The well- trodden path of 'Car Warriors' is a tight 72-hour deadline in which two competing build teams shoot for top dog in the garage. Naturally none of the name builders seem to get along well enough to complete the task without temper tantrums and threats.
You will feel an overwhelming sense of déjà vu emanating from this show. They chose a perilous path with these tired juvenile antics on TV. Call it the 'American Hot Rod' syndrome where a famous custom build shop puts their professional reputation on the line with guys with names like Blue Bear or something equally as goofy.
The programs dwell on matters of conflict, and accusations of incompetence and incompatibility between the characters in these car comedies. So the question might arise; does their behavior enhance your confidence in their professionalism or diminish it? Consider this to be a rhetorical question of the first order.
A better direction would have been a tight analysis of the direction and methods behind their build decisions. An education into the problems behind an accelerated build and how they coped with the issues would have been a much better fit.
But instead viewers are faced with an endless series of what appears to be manufactured confrontation and censored language. Maybe the show should add an octagonal ring in which agitated builders can settle their differences once and for all. Or a wrestling ring where feigned aggression is the foundation of every performance.
What car guys really want is a showcase for some world-class car craftsmen who actually work on a car without the very cheap theatrics.
Apparently that may be too much to ask-far too much it seems.
Jim Sutherland
For more car stories without a three ring circus check out
COMMENTS
BOB:"I would rather watch a car build done by high school mechanic and metal shop kids doing the very best they could than that poor excuse for a hot rod build -off…"
DENNIS:"I agree. All the "car shows" on TV these days are either one long aftermarket car parts commercial or a male version of the "Kardashian sisters".