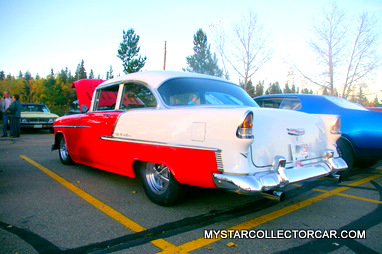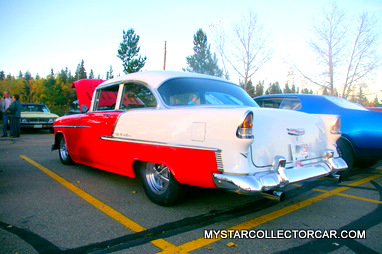 Gord Skakun is a dyed-in-the-wool car guy.
 He is also a hard-working member of his local Ford club, plus he is the general sales manager of a local Ford dealership.
So he caught everybody in his car community seriously off-guard when he showed up in a beautiful 1955 Chevy 2 door post resto-mod.
The event was similar to a confirmed Loch Ness monster sighting; the kind of Loch Ness event not fabricated by nut jobs and opportunists.
The Gord- in- a- non-Ford sighting was the real deal, and we have the photos to prove it.
The tri-five Chevy in question was a very well-crafted resto- mod that had a 406 Chevy small block under the hood. It also had a big upgrade in the creature comfort department with ultra-comfortable front seats that gave the car a big boost in popularity with his wife.
She liked the ride and luxury combination that went well beyond the standard issue expectations of a stock 1955 Chevrolet. And a car guy can never lose if his lovely bride is onside.
The purchase was a very spontaneous decision made by Gord. He has a wealth of knowledge about new vehicles from his day job. His old car hobby has extensive roots in the Blue Oval brand for obvious reasons.
But Gord's head can definitely be turned by a pretty face from other car makes, so he seized an opportunity to purchase this head-turner from the Harley Earl era at the General. The selling point was the high level of craftsmanship done by the restorer behind the work on the 55.
Very little was left to chance by the builder when it came to the car. Gord knows good talent when he sees it-and suddenly a Ford boy was behind the wheel of an iconic Chevy. It was a little like swapping blue duds for gray duds during the Civil War.
We have offered up Gord's defense of his Chevy purchase. It would be difficult for anybody to refrain from the making same decision for this well-designed resto-mod.
We're just not sure how well Gord's defense will work when he goes through his court martial at his next Ford club meeting.
Jim Sutherland
More creative car ownership reasons and stories at https://www.mystarcollectorcar.com/2-features/stories.html
COMMENTS
ROBERT:"A 55 in this shape could turn anybody's head".