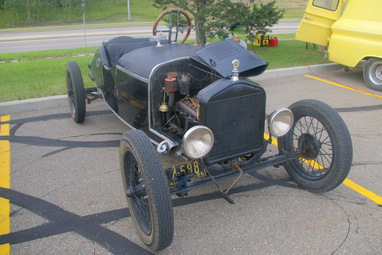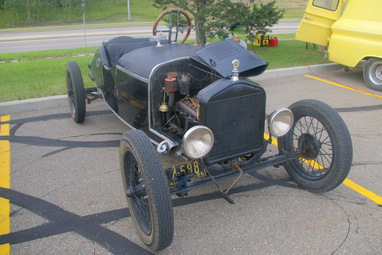 For the uninitiated, the Model T represents a quaint era of automotive history and nothing more – just don't say that in front of a Model T guy.
There's a simple reason for that- the average Model T owner is far more than a car guy.
'He or she is part of a cult and it's a huge cult with hundreds of thousands of dedicated followers.'
Terry McBride is a typical Model T guy because he knows every nut and bolt in his car –a very rare 1925 Model T Speedster. That is almost mandatory in "T" ownership because unlike Corvette or Cuda guys, these guys have to get their hands dirty every time they drive them. Terry was no exception because his hands were covered with oil during the interview at the show-that's how "T" guys roll.
He's also very aware of the history of the car and its position in the evolution of technology.
This particular car one of 2 Speedsters built by a legendary local car in Terry's home town guy named Charlie Parker. He was a pioneer in the car collector world long before it became fashionable and this car is a rolling tribute to his skill as a builder. Terry bought the car from a guy who purchased the car at Charlie's estate sale-in Terry's own words, "the guy was too big to fit in it".
Terry described how these early Ford muscle cars came about "you could pick up a Model T for 10 or 15 bucks and build these cars from plans". That has to be the best entry level race car in the history of the sport. Terry has done some racing in this car-he describes the car at 55 mph as "scary and a lot of work because it's hard to steer and rough-no shocks". But that hasn't stopped him from putting the old race car through its paces on a local track.
Terry also drives the car on the street-it has new fangled gadgets like brake lights and signal lights but as he reports "nobody ever looks at them they're too busy looking at the car". He's equipped the car with some of the mandated stuff for sanctioned Model T tours –things like a fire extinguisher but so far he's bucking the rear brakes requirement.
The car is a magnet for people-that was evident at a local show where people raced over to see this unusual refugee from the early part of the last century. That's probably the biggest issue Terry has with the car.
'The old T Speedster is so popular that he can't get where he wants to go as fast-even at 55 mph.'
Jerry Sutherland @mystarcollectorcar.com