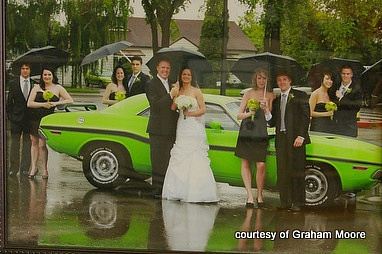 The last thing Graham Moore thought about over ten years ago was whether this green Challenger RT would color coordinate with son Dustin and daughter in law Ashley's wedding party.
That wasn't the motivating factor behind the acquisition of this classic Mopar.
Graham comes from a hardcore 3rd generation Chrysler family. They bleed Mopar for one simple reason – it's not only in their blood…it is their blood. Graham is the current Moore entrusted with the family business, Northwest Motors in Red Deer, Alberta, Canada and he truly respects the tradition behind their dealership.
The Moore Chrysler tradition extends back over many decades but for Graham his personal connection was found back in his 1975 high school days when he owned his first Challenger. That car was a 1973 Challey and it struck a lifetime chord with Graham.
Graham found his replacement for memories in 2000 when he struck a deal for this numbers matching, lime green, 440 Challenger RT. He's a practical guy when it comes to cars, after years in the retail side of the game but he knew he had to own this impractical Mopar classic.
Last summer he watched Dustin and Ashley get married yet it never occurred to him 2 days earlier that the Challenger would be part of the wedding plans. He admitted, "I didn't want it in there but we hosted a bridal reception and her mother said it would have been a lot nicer with a green Challenger in there instead of the new orange one because it would coordinate with the flowers. I told her I had one sitting in the showroom and she was thrilled because it color coordinated with the green colors so it became part of the show".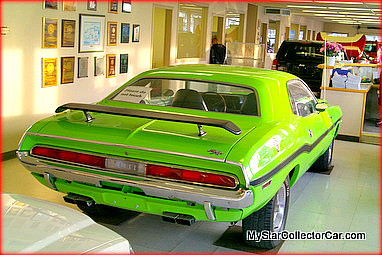 The wedding took place on a rainy day but Graham took a hit for the team and drove the Challenger in the inclement weather. The results were spectacular – maybe too spectacular because car guys are drawn to the car in the picture and away from the bridal party.
Graham is an extremely busy guy and he's the first to admit that he " I don't drive it enough, I did put a few miles on it two years ago" but for him, ownership is enough – when he does make time to drive the RT, he takes full advantage of the trip back in time.
Rare Mopars like this Challenger generate a great deal of interest and Graham has turned down several offers for the Challenger. One of the problems is that it sits on the showroom floor so the natural assumption is that "everything has a price".
The Moores built a family business around the retail side of the automotive world but they also have a strong traditional philosophy at Northwest Motors. That trait is clearly an offshoot of their family-based Chrysler store and it extends to this Challenger RT.
That's why this car is not for sale. There's no doubt that Graham could make some serious money on this classic Mopar but that's not the point.
The Challenger isn't about business – it's about family history. The closest the RT comes to the business side is in the public relations department. It's a showroom magnet and it did star in a tire-smoking TV ad for Northwest Motors.
Graham's biggest dilemma is the succession plan for the Challenger because he has four kids and they're all steeped in Moore tradition, so the large question is "Who gets Dad's Challenger?"
After that, it just comes down to "Who gets it for the next Moore wedding?"
Jerry Sutherland
Follow us on Facebook at-http://www.facebook.com/MyStarCollectorCar
Follow us on Twitter at- https://twitter.com/#!/MyStarCollecto1