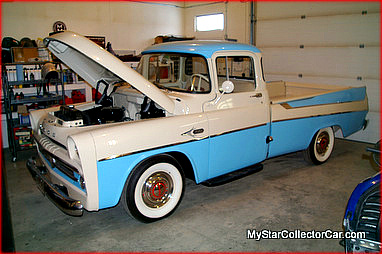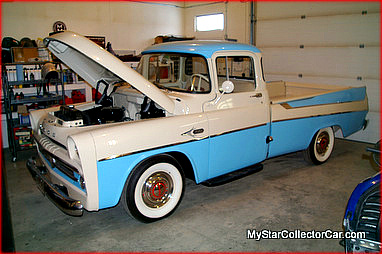 Today's pickup trucks are light years away from your grandfather's old International Harvester pickup.
They're just under the size of a Greyhound with diesel power to match.
"Today's pickups can out-handle, out-accelerate and out-brake a 55 Vette plus they have a better ride and more creature comforts than Ronald Reagan's Presidential limousine."
The path to civilized pickups began in 1955 with the Chevy Cameo followed by the car-truck Ford Ranchero. Chrysler's answer was the extremely rare Sweptside.
Here's a great example of this little-known Dodge truck.
Floyd Sauer is afflicted with a serious case of Mopar disease and he has the fleet to prove how deep this affliction runs in his system. His primary focus is the shoebox B-body Hemi Dodge and Plymouth circa 1966-67 but this Sweptside drew him in like a beer lineup at a football game.
This is a very unique vehicle. Late 50s Dodge trucks are rare enough (180 approx) but these Sweptsides are almost extinct thanks to extremely low initial production numbers and the fact that they are 55 years old.
The problem with these unique trucks is that they had to be hand assembled because of the Dodge station wagon fins. They were built in a Special Equipment Section at the factory so that fact severely limited the production of these unique trucks.
This Sweptside was fully optioned. That doesn't mean that it came with GPS, backup cameras, leather seats, cup coolers, AC and satellite radio but it did come with a 315 cubic inch V-8 and 3 speed Loadflite pushbutton transmission.
The old Dodge also came with the factory wheel covers and red interior with a blue and white exterior. These trucks were on a basic platform but the option list was mix and match for the customer. Floyd is an extremely happy owner of this piece of Mopar pickup history because it represents such a unique era for the Dodge truck.
The infancy of the civilized pickup truck.
Jerry Sutherland
Follow us on Facebook at-http://www.facebook.com/MyStarCollectorCar
Follow us on Twitter at- https://twitter.com/#!/MyStarCollecto1