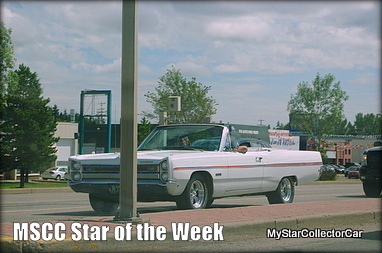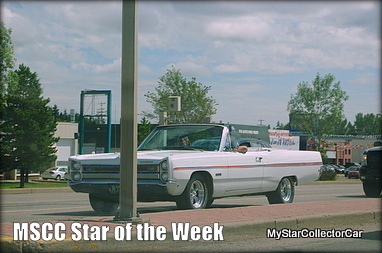 MSCC JULY 20 STAR OF THE WEEK: 68 FURY CONVERTIBLE – TAKING ON THOSE LAZY, HAZY, CRAZY DAYS OF SUMMER
This is the peak of the summer season and with it comes those lazy, hazy, crazy days Nat King Cole sang about back in the sixties.
Summer conjures up many images but one of the best is a sunny day, an open road, an open roof and a tankful of gas.
This MSCC Star of the Week '68 Fury convertible was on the street yesterday doing just that.
Lazy, hazy, crazy days of summer never looked better.
MSCC JULY 19 STAR OF THE DAY: SECOND GEN CAMARO Z-28 – EVOLUTION OF A CLASSIC
Camaros may have joined the pony car wars later in the game but when they did; the impact was equivalent to a ½ mile wide asteroid impact.
They took the game to another level with the introduction of the Z-28 model.
This MSCC Star of the Day 2nd Gen Z-28 Camaro was at a show back in June and it underscored one theme.
This truly was the evolution of a classic.
MSCC JULY 18 STAR OF THE DAY: F-BODY CONVENTION – AN EXCLUSIVE CLUB
The F-Body Mopars were born in 1976 to replace the venerable Dodge Dart and Plymouth Valiant lines.
That was a tough act to follow because those A-body Mopars were more bulletproof than Bruce Willis in every single Die Hard movie ever made but the difference is everybody wanted their Valiants to survive.
These MSCC Star of the Day F-bodies were at a show back in 2007.
This was clearly a convention for exclusive Mopars.
MSCC JULY 17 STAR OF THE DAY: 1974 FORD GALAXIE – SURVIVAL IS THE GAME
Four door sedans from the 1970s are survivors by design because few people pump money into more- door cars in general and even fewer invest in 70s 4-door sedans.
That attitude leaves few options so most survivor status 4-doors are the product of a low-mileage, garaged life.
Typically these cars were bought by older drivers who were happy to look after a car for decades if necessary.
This MSCC Star of the Day '74 Galaxie was in traffic two days ago and it was a shining example of a classic survivor status 4-door sedan.
Happily, at this point it looks like it was still in the hands of the original owner so it wasn't slammed to the ground and painted flat black.
MSCC JULY 16 STAR OF THE DAY: A DAY AT THE OFFICE—MSCC STYLE
There are many facets to MyStarCollectorCar and 99.99% of them revolve around the old car hobby— that makes sense because this is an old car hobby e-zine.
One of the most asked questions is, "Where do you get your stuff so you can put stuff out every day?" The simplest answer is you go to where the stuff is on any given day.
Yesterday was over 80F (27C) in the shade with high humidity so it seemed like the best time to wander through an old-school auto wrecker in search of MSCC Fallen Stars.
Some people might see pushing through chest-high grass in a swamp to look at old rides as a rough day at the office but on the contrary – it was the best day at the office.
In fact, it was an MSCC Star of the Day caliber day at the office.
MSCC JULY 15 STAR OF THE DAY: OUTSTANDING '58 IMPALA AT A RECENT CAR SHOW
There are many ways to stand out at a car show even though the competition for attention is huge in an environment full of off the chart cool.
One of the best ways is to show up in a classic red icon.
This MSCC Star of the Day '58 Impala was at a show back in June where it gave new meaning to an old phrase.
Bold and beautiful.
MSCC JULY 14 STAR OF THE DAY: VALIANT CONVERTIBLE – COMPACT COOL AT A NON-MUSTANG PRICE
There's little doubt the Ford Mustang captured the imagination of people in a way that could only be described as "Beatle-esque" back in 1964.
They were sporty little cars but the real story is that the Mustang was a re-skinned Ford Falcon.
One of the Falcon's biggest competitors was the Valiant.
Chrysler pumped out a fair number of these compacts and even ventured into the convertible world.
This MSCC Star of the Day Valiant convertible was at a show last weekend and one thing is clear—it had Mustang fun written all over it at a fraction of the price.
For past MSCC Stars of the Day please click here.
CLICK HERE to Like us on Facebook
CLICK HERE to Follow us on Twitter
CLICK HERE to Follow us on Pinterest
Star of the Day page sponsored by Southside Dodge.