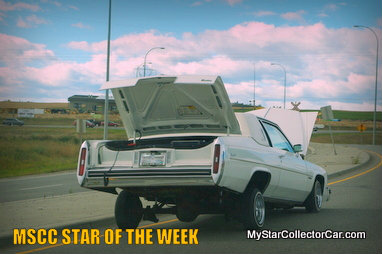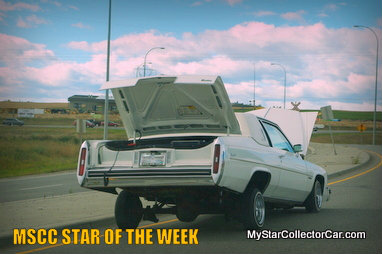 OCTOBER 6 STAR OF THE WEEK: TOO MUCH TECH FOR AN OLD RIDE?
Old cars face a vast array of new tech add-ons in 2013. Most of these are designed to enhance an old ride and take them from dinosaur era tech to state of the art 21st century tech.
Retro-fitting things like fuel delivery systems, brakes, transmissions and radiators makes a lot of sense.
Retro-fitting stock suspensions with air bags or hydraulics makes less sense. This is a purely cosmetic exercise because it turns your car into a four-wheel elevator with second story-main floor-basement settings.
This Star of the Week Caddy is a classic example of an epic failure.
Regular MSCC readers know that any old ride with a hood up is an automatic Star of the Week but the question is simple.
Did this one have to happen?
OCTOBER 5 MSCC STAR OF THE DAY: CHEVY FLEETLINE FASTBACK-COOL 40S POST-WAR STYLE
Post-war cars had a fairly utilitarian look because Detroit was more concerned with the production of cars and less concerned with the style.
There was a serious backlog of orders for anything on four-wheels because guys were back from the war so a new car looked pretty good after years of battle.
Chevy had a few versions of the post-war bowties but one of the coolest was the Fleetline fastback.
These cars was born cool and custom car guys spotted that the first time one rolled off a showroom floor.
This MSCC Star of the Day was on a street in one of the best resort areas in the world last July and it was a rolling testimony to built-in style.
OCTOBER 5 MSCC STAR OF THE DAY: TWO CHEVY TRUCKS FROM THE 50S-ONE THEY ACTUALLY MADE
These two classic Chevy trucks were at a show last night and they raised an interesting question.
What if Chevy beat Ford to the punch on the Ranchero in '57 and built the El Camino first?
This '57 Chevy started life as a wagon but it evolved into a truck when the guy who bought it decided that the wagon was almost rusted beyond repair so why not build a '57 El Camino?
Chevy built some classic trucks in the 50s but this Star of the Day custom was one for the ages.
OCTOBER 3 STAR OF THE DAY: A CLASSIC RATTIE FOR THURSDAY
This rat rod practiced all the classic moves back in 2009 at a major car show.
That's not a crate 350 under the non-existent hood, it's got a suicide front and and those aren't state-of- the- art-wheels.
The paint job is pure "bush-find" green and the bodywork is crude but effective.
There's no chance the exhaust system meets anything more than minimum standards and the seats were bare metal.
In other words, this rattie was MSCC Star of the Day perfect.
OCTOBER 2 MSCC STAR OF THE DAY: WHAT HAPPENS WHEN YOUR SMART CAR GOES DOWN?
The MyStarCollectorCar Star of the Day is almost the exclusive domain of old iron.
Every now and then something unusual pops up that isn't close to being classic but it is compelling in an automotive sense.
A Smart Car may eventually gain some collector car status because it could be a 21st century Isetta but for now it's an odd-looking econo-box.
Regardless of the future status of this little go-kart with headlights, this one was an easy pick for MSCC Star of the Day because it looked so goofy on the back of a giant tow truck last week when it broke down in traffic.
Two guys could have lifted this car into the back of a one-ton pickup truck and hauled it away but they took it away on this large flatbed emergency vehicle.
That's overkill…Star of the Day overkill.

OCTOBER 1 MSCC STAR OF THE DAY: CHEVY COE-YOU CALL THAT A TRUCK?
Trucks are huge in 2013. They started growing in the 1990s and never stopped.They've gone on automotive steroids for years so a new Chevy one-ton makes a '72 Chevy pickup look like a Smart Car.
The fifties were a different era. They had regular pickup trucks for light work and they had the COE trucks for real work.
COEs weren't air-ride comfortable-they were brute force tough.
This custom Chevy COE was on the road a few weeks ago and there was no question this MSCC Star of the Day was a real truck when it was built.
SEPTEMBER 30 MSCC STAR OF THE DAY: A BIG, BAD 1964 HEMI PLYMOUTH RAT HUNTER
There's something very Johnny Cash-like about this '64 Plymouth. He was the "Man in Black" and this was the "Mopar in Black".
This bad boy was the opposite of subtle.
Clearly it was built to seek and destroy all comers and that Hemi front plate meant that this was a deeds, not words car.
It wasn't pretty, it wasn't cute-it was all business. It's called the 'Rat Hunter' and most car guys know what cars run rat motors
This is a menacing-looking car that would punch your grandmother in the mouth if that's what it took to win.
That's an MSCC Star of the Day Monday morning attitude.
For past Stars of the Day please follow this link

Star of the Day page sponsored by Southside Dodge.