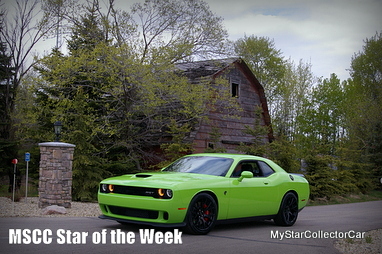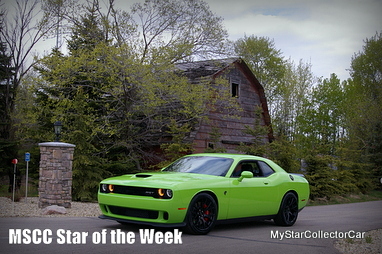 MAY 17 STAR OF THE WEEK: HELLCAT CHALLENGER–AN INSTANT ROCK STAR
MyStarCollectorCar is all about old iron but once in a decade or two, the clock moves up to a new ride.
This is always because a car (or truck) has such an immediate impact it gets moved up about 25-30 years to iconic status.
The Hellcat Challenger is one of those rides because this car gets more press than six Hollywood stars combined.
That's why the MSCC Star of the Week is a Hellcat Challenger because it's an instant rock star.
MSCC MAY 16 STAR OF THE DAY: 1963 RAMBLER CLASSIC-SENSIBLE DRIVER FOR SENSIBLE TIMES
The population explosion was in full force in 1963 so most families had to follow sensible programs.
Kids are a huge money sink so parents had to exercise fiscal responsibility in every part of their lives.
That responsibility extended to things like houses and cars.
This MSCC Star of the Day '63 Rambler Classic was a sensible driver for sensible times.
MSCC MAY 15 STAR OF THE DAY: EX-RCMP 1989 MUSTANG FOX BODY 5.0 SSP HIGHWAY PURSUIT
If you look back at the 1980s there wasn't much to get really excited about for most of the decade.
Most of the music was brutal and the cars were lukewarm at best.
There were exceptions like the Buick GNX and a few Shelby-ized Mopars but the roster was pretty thin for performance.
You had to look at cars like this 1989 Mustang RCMP SSP (Special Service Package) Highway Pursuit because they could top out at around 140 mph plus they brought respect back to the 80s.
MSCC MAY 14 STAR OF THE DAY: '57 CHEVY BEL AIR—AMPED-UP COOL FACTOR IN NON COOL TRAFFIC
No red-blooded car guy fails to spot a classic ride in traffic.
Some cars are more distracting than others but they all have an impact on gearheads.
Today's traffic is pretty boring except when it's punctuated by occasional bursts of really bad driving-the cars are pretty much irrelevant.
The big exception to the irrelevant rule is a car like this MSCC Star of the Day '57 Bel Air because it was amped-up cool in non-cool traffic yesterday.
MSCC MAY 13 STAR OF THE DAY: MONTE CARLO-CHEVY'S UPSCALE COUNTRY CLUB RIDE
Chevrolet has always been known for lower buy-in costs and sensible, dependable transportation.
You could move up to Pontiac, Olds or Buick but the average Joe drove a Chevy.
Chevrolet could live with this steady Eddie, working class personality but in 1970 they went into the personal luxury car business with the Monte Carlo.
This MSCC Star of the Day Monte Carlo at a show last year is a great example of Chevy's upscale country club ride.
MSCC MAY 12 STAR OF THE DAY-A FALCON GETTING IN TOUCH WITH ITS INNER MUSTANG
The Falcon was introduced in 1960 to combat the VW Beetle invasion.
They were functional little cars and they were reasonably popular with buyers despite the overwhelming presence of large and in charge Detroit iron.
Falcons may have supplied the bones for the wildly popular Mustang, but they never got the glory.
This MSCC Star of the Day juiced-up Ford Falcon was at a show last Saturday where it was clearly in touch with its inner Mustang.
MSCC MAY 11 STAR OF THE DAY: AMC JAVELIN AND DODGE CHALLENGER-MOPAR COUSINS BY MARRIAGE
There was a time when there were four separate North American car manufacturers.
This was before August 6, 1987.
AMC was the proud little car company that could and Chrysler was the 3rd place team in Detroit before the marriage.
This MSCC Star of the Day AMC Javelin and Dodge Challenger on the street a few weeks ago gave a good look at two cousins by marriage before the wedding day.
For past MSCC Stars of the Day please follow this link.
CLICK HERE to Like us on Facebook
CLICK HERE to Follow us on Twitter
CLICK HERE to Follow us on Pinterest
Please re-post this if you like this article.
Star of the Day page sponsored by Southside Dodge