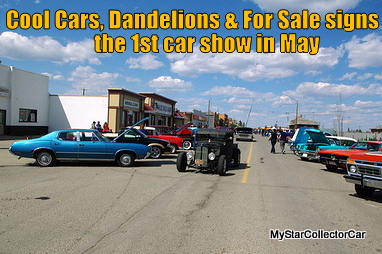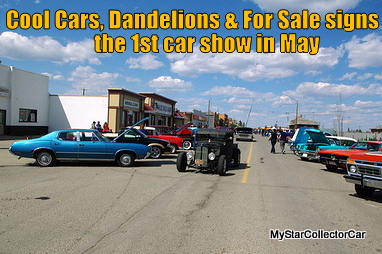 The car guys in Didsbury, AB really know how to throw a good car show.
They close off Main Street and fill it with a lot of retro rides and a few new rides.
Our sentiments at MSCC lean heavily toward the old iron because vintage rides are our wheelhouse-not exactly a state secret to anybody who visits our website.
This year's show had a record number of entrants, according to unofficial sources. No surprise to us because it was a perfect spring day with plenty of sunshine and no rain for protective car guys who always throw a big wing around their beloved old cars.
We liked the way the organizers catered to the younger set and included a Pedal Car Corral at the show. The kids loved this feature and it was great to see them get excited about something from baby boomer childhoods.
One of the signs of spring is also an abundance of For Sale signs in old cars and the Didsbury show had a bumper crop of them. We have mentioned many times about our approach to stories and how none of them include a vintage ride with a For Sale sign.
Our reason is pretty simple: there is no story when it comes to a For Sale sign car. The car's story is in major transition mode and will lose its connection in a big way when a current owner becomes a former owner.
The new owner's reason to purchase somebody else's former dream car may be interesting enough to warrant a story, but the For Sale sign means the vehicle is in a form of car purgatory waiting for a time when it can go to a happier place.
The first For Sale car that caught our attention was a 1967 Buick, kind of a shame because it was an unusual car from the late 60s, neither pony nor muscle, but very cool in our opinion.
The second For Sale car was a 1963 Corvette split window fastback, the first of the Sting Rays, and one of the most desirable cars ever built by the General. These cars reached legendary status as soon as they left the factory and are a pedal-to-the-medal icon in classic American rides.
The third For Sale vehicle was a 1947 Fargo pickup wearing its entire 68-year-old history in unrestored majesty.
This truck really caught our eye and we at MSCC would like to see what the next owner does-or does not do-to this survivor post-war classic. As-is patina, rat rod, full restoration, custom are a few options for the next owner.
The fourth For Sale ride was a 1949 Chevy pickup and it was a nice set of wheels with no issues for the next owner. Basically a get-in-and drive truck with somebody else taking the hit on the restoration bill.
The same program applied to a For Sale 1957 Dodge Custom Royal where the current owner put a lot of dough into the restoration and hoped to recover at least half of her investment in the sale.
We featured this car in 2012 when its current owner was very attached to it and had no intention to sell it.
There were plenty of other For Sale vehicles in this show, but my final For Sale car is a 1976 T-Bird that looked good and original.
The 70s cars are starting to gain steam in the car hobby and this one would be a solid bet for the next owner.
However, we are not the middlemen for the sale of any of the above and instead our readers will be treated to some very interesting rides that will stay with their current owners (to the best of our knowledge) for a long time.
Look for their stories in future MSCC features.
Jim Sutherland
CLICK HERE to Like us on Facebook
CLICK HERE to Follow us on Twitter
CLICK HERE to Follow us on Pinterest
Please re-post this if you like this article.