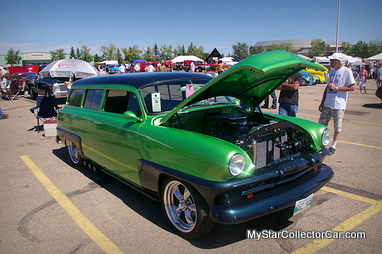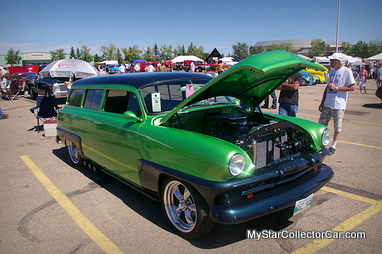 Somehow it took us over a year to finally write the story about one of the world's coolest 1954 Plymouth station wagons.
The 1954 Plymouth was in and of itself very un-cool in 1954 by most measurements of the concept-and bear in mind this was the pre-Elvis-breakout era when the cool bar was set very low.
These days an original 1954 Plymouth wagon would rank very high on the cool meter in a retro kind of way.
These cars were used up hauling around baby-aged Baby Boomers and then died an anonymous death by crusher with few if any mourners. These old wagons are now scarce and cause a stir at any show because their ranks have been thinned to a handful of survivors.
So what happens when a cabinet maker/ boat builder with a boatload of talent decides to customize a 1954 Plymouth station wagon? We found out at a major 2012 car show when we saw Paul Roy's custom long roof among the attendees.
The show is one of the biggest ones in western Canada yet Paul's resto-mod creation still stood out in a big way. Paul was a boat-builder until 8 years ago when he changed gears and began to build a few custom cars for a living.
Bear in mind, Paul does his builds in a modest two car garage when you take a look at his finished product in the photos. He has been called the "Chip Foose of the North" and it is easy to see why the comparisons can be made with his custom Plymouth wagon.
The Plymouth's roof has been chopped without any change to the window size. Paul angled the pillar posts to give it a sleeker design and enhance its overall appearance. The amount of thought and work that went into this custom feature alone is mind boggling.
Paul rolled the drip rails to smooth out the car's lines even more and the overall combination gives this car a very cool exterior by any measurement of the concept.
The car is powered by a 1954 Chrysler Hemi engine that runs through a Chevy transmission into a Ford rear end. The front end is Nova and the front seats are Buick, while the back seat is a custom job created from the fertile imagination and built by Paul's sizable skill set.
The Plymouth has power steering, power brakes and a digital dashboard to add an extra custom touch to the 59-year-old wagon.
Paul builds his cars with the kind of care, imagination and attention that has won him a Master Builder awards at a World of Wheels show. However the real reward for him is a road trip in the cars before they find their way to a new owner.
His Plymouth had about 600 miles on it before he hit the road and drove it about 900 miles west to the show where we discovered his custom wagon. Paul is very confident in his finished product and encountered no issues on the way to the car show.
Paul had plans to take the long way home after the show because he was having so much fun with his latest custom creation.
Gotta like a guy who enjoys his work that much.
Jim Sutherland