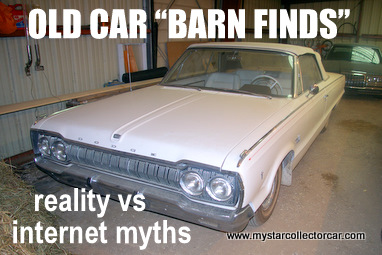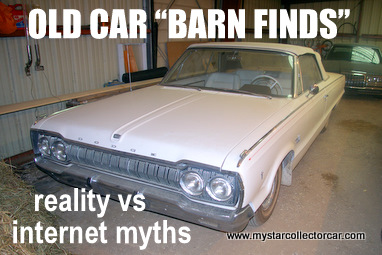 Anyone remotely associated with the old car hobby probably had somebody send him or her the "old abandoned shed full of vintage cars" in Spain link.
That was the one with a giant dusty old warehouse purchased for peanuts on a property tax-owing deal.
Like most urban myths it was far too good to be true.
Basically this is the story line-the lucky guy picked up the old property and found a shed full of incredibly collectible cars-primarily rare European cars.
It was a 21st century version of the "dead guy in the brand new Corvette " or "the angry ex-wife selling the estranged husband's Ferrari for a few hundred bucks" scenario.
These are fun stories and they tend to offer hope over reason like any "pot of gold at the end of the rainbow" scenario.
But like that shed full of vintage cars found in the subject of the email, truth inevitably triumphs over myth and the real facts come out-in this case the real story was that a wealthy Portuguese businessman liked to store his cars in a dusty building.
There's nothing really wrong or inherently evil with an urban myth like that because we like to view the "anything is possible" scenario as the corner stone of a positive, forward-looking society.
The danger lies in a full commitment to pot of gold myths-you can waste a lifetime looking for a big score like a barn full of valuable cars in Spain or you can continue with a steady, realistic search via contacts and conversations.
Realistically, at the end of the day you might find something like this-a barn full of cars -maybe not European multi-million dollar cars, but low mileage, one owner 60s and 70s North American iron. The owner bought most of them when they were brand new and he decided that they "wouldn't get much in a sale".
One more thing-no, they're not for sale and it's the old line… if we tell you where they are we'll have to kill you.
Or the owner will kill us.
Jerry Sutherland @mystarcollectorcar.com
COMMENTS
BOB:re: to your story about barn finds  I never believed those stories either. Especially for someone living in southern California like I do. And then I found the 1917 Model T touring  in great condition in a barn in Bakersfield, CA where it had been stored and forgotten for over 42 years! It's all original and unrestored and in beautiful condition except for the top and tires which had to be replaced (and the inevitable washing and removal of hay and mice!). Original engine, never rebuilt, and matching serial numbers.
Altho this was just one car, it does sometimes happen, and when you least expect it!
Take care.