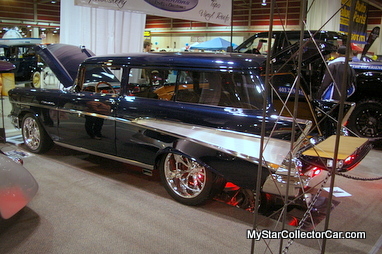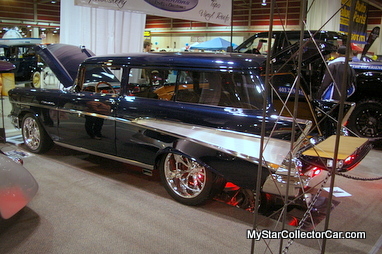 Mervin Evans was a typical car guy because he knew exactly what he liked in the world of cars.
He picked a '57 Chevy wagon.
He mapped out everything he had to do for the project but life has unexpected twists and turns that can end a dream in a heartbeat.
Unfortunately, Mervin lost his life in a job-related accident back in 2008 but he left an automotive legacy behind that defined him as a car guy.
Leon Hager is Mervin's son-in-law and he explained how the process began,"The car sat for a year and a half and the family decided to finish the project in his memory. His wife Frances became the project manager".
Mervin's goal was pretty basic, "He always wanted a two-door wagon and he didn't want vent windows".
Leon explained how Mervin definitely knew where he wanted to take the '57 Chevy wagon, "He was definitely a hands-on guy and he started working on it in in his shop and he bought an old Corvette as a donor car for the project. He was a very busy guy so it was taking a fair amount of time".
The family decided the best way to honor Mervin's memory would be to resurrect and complete the wagon as a tribute to his memory.
This was a huge project so the family turned the car over to some trusted professionals because they wanted to get ready for a major event as Leon recalled, "We wanted it ready for the World of Wheels".
Mervin had sketched out a mental blueprint for the '57 Chevy and the donor Vette was the key to the equation, "He wanted this car to use the best parts of the Corvette and make it great driver. Basically he wanted to be able to drive it".
They had a team meeting to analyze the game plan and color was a huge factor as Leon added,"His favorite color was blue and my mother-in-law picked this one".
The other concession they made to Leon's blueprint was the dash as Leon explained, "He always loved the '55 dash and he had a two-door sedan parts car so that was an easy decision".
The departure from the game plan came under the hood as Leon admitted, "That's a 502 Chevy big block, he would have been okay with the donor Vette motor".
Other things were added to make this '57 Chevy a truly spectacular car. Leon explained, "It's got an upgraded transmission, C4 Vette front end and C4 independent rear suspension and the interior is completely custom".
The quality of this classic ride is summed up with a trophy. The family made the World of Wheels deadline and took home a Best of Show honor.
The practical side of any car is found in the time it spends on the road. Leon outlined the game plan with the Chevy, "My mother-in-law Frances still hasn't driven it yet but I'm going to make her drive it. She should because she's the owner. Her daughter wants to drive it but only after it gets its first scratch".
Leon explained, "I've driven it a few times and it drives nice but I'll admit we've taken it to shows on a trailer so far".
The key to honoring a car guy's memory is to honor it in a car that captures his philosophy so you can bet this car is going to see a lot more of road.
Mervin would have wanted it that way.
Jerry Sutherland