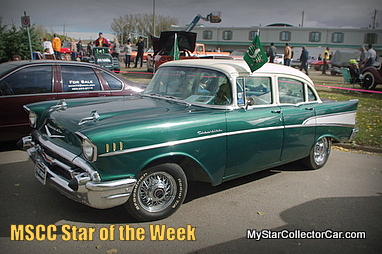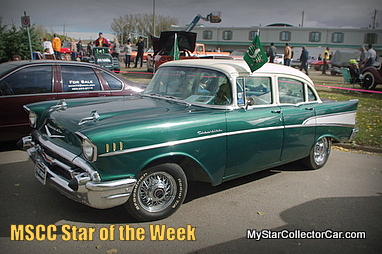 NOVEMBER 10 MSCC STAR OF THE WEEK: '57 CHEVY AND SOME RIDER PRIDE
Old rides are the truest expression of personal taste and individuality because nobody fixes up a '57 Chevy sedan for practical reasons.
They do it because in their world, '57 Chevy sedans are the coolest cars ever made.
They don't do it because a '57 Chevy sedan makes more sense than a brand new SUV for getting kids around in January. They do it because a '57 Chevy is a gut-level vehicle and a new SUV is simply caving in to reality.
The same theory applies to sports.
You pick a favorite team for life based on loyalty over logic and the Saskatchewan Roughrider fan base is a shining example of this concept.
The Riders play in the Canadian Football league and their fan base is second to none for cult-like dedication because they've been around for over 100 years and they've only had 3 Grey Cup championships.
This MSCC Star of the Week '57 Chevy with the Rider flag is a blend of two emotional, irrational worlds..old cars and unswerving dedication to a team.
NOVEMBER 9 MSCC STAR OF THE DAY: '64 FORD FAIRLANE THUNDERBOLT TRIBUTE-BLUE OVAL THUNDER
Ford didn't build too many Thunderbolts back in '64 but they made a big impact despite the small numbers.
Thunderbolts were based on the lightweight Fairlane platform but the little Fords turned into Frankensteins when the gargantuan 427 was stuffed under the hood.
These were track-only monsters and they brought fear to the strip in the form of massive horsepower and a textbook power to weight ratio.
This MSCC Star of the Day tribute '64 Thunderbolt was at a show back in August 2008.
NOVEMBER 8 MSCC STAR OF THE DAY: AN AMC JAVELIN MADE A ROAD TRIP A BETTER ROAD TRIP
One of the byproducts of 2013 cars is the clone factor. You can get a row of cars on a highway that are mirror images of each other.
This automotive generic look has killed old-fashioned road trip games like "name the make, model and year".
The concept of cars with an individual look is more outdated than your grandfather at a night club.
That wasn't a problem in the late 60s when this MSCC Star of the Day AMC Javelin was new.
The difference between then and now was really obvious back in September when this classic popped up on a highway full of clone cars.
NOVEMBER 7 MSCC STAR OF THE DAY: 1955 REO M36 6X6-WORKHORSE IN POST MILITARY CAREER
This 1955 REO M36 6X6 was built to military specs for military work so it's all function over and under the skin.
The truck retired from military service in 1967 but after that it was a hard-working contracting truck for a power pole company.
This truck has literally installed poles all over Southern California on military bases like Camp Pendleton and tracks like Riverside until 2011.
Clearly, retirement was a shadow of a concept for this MSCC Star of the Day.
NOVEMBER 6 MSCC STAR OF THE DAY: '65 FORD ECONOLINE MAKES A GRIM JULY DAY LOOK BETTER
July can be one of the most glorious months of the year but when the weather gets grim it can be the cruelest month.
We can accept dark, cool days in October because it's part of the "summer slips away" process but July is the month for fun in the sun.
There was none of that back in July 2012 when this 1965 Ford Econoline pickup was on the street during a cold, driving downpour.
It was far from a day at the beach but somehow this bright orange truck added a little sunshine to a very bleak day.
NOVEMBER 5 MSCC STAR OF THE DAY: '66 CHEVY TRUCK IN THE REAL WORLD
Most old rides get a long time-out when the snow flies.
This makes sense in many way because most of these old cars and trucks have already done their time in the real world.
They've paid their dues on icy, salt-covered streets.
They've struggled to start in brutal weather and they paid a huge price for surviving sub-Arctic weather…with all due respect to global warming.
This winter lost the balmy weather memo because it came in with a vengeance.
That didn't stop this MSCC Star of the Day '66 Chevy truck from heading out for another run at winter despite that it's been on the road for nearly 50 years.
NOVEMBER 4 MSCC STAR OF THE DAY: '58 PLYMOUTH BELVEDERE TWO-DOOR SEDAN…NON-HOLLYWOOD FINS
The movie Christine put Mopar fin cars on the map back in 1983 but it came with a price.
Post-1983 fin cars were called Christine, they were all and white and they were inherently evil.
The movie saved a fleet of fin cars but the incredible style and engineering behind the Virgil Exner era at Chrysler was hidden behind a Hollywood curtain.
This MSCC Star of the Day '58 Belvedere at a show back in June 2013 is a far more realistic look at Mopar fin cars.
It's not red and white, it's a Belvedere not a Fury and it only mows down people if the guy behind the wheel is drunk or texting.
For past MSCC Stars of the Day, please follow this link.
Star of the Day page sponsored by Southside Dodge.