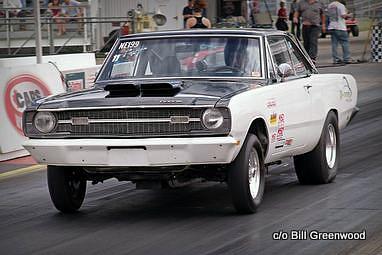 Bill Greenwood has been in the car scene far longer than he cares to admit so the "My Favorite Ride" question was difficult for him because he's been around more cars than Barrett-Jackson.
Nevertheless, Bill did agree to narrow the field down by putting the concept in his own words.
Take a look at the two Mopars that rocked Bill's world.
"When someone asks you what your favourite car is, if you're a real car guy, you're pretty much stuck in a trap. It's kind of like asking who you think is the most beautiful Hollywood actress. Sandra Bullock? Hedy Lamarr? Ingrid Bergman? Pam Grier? Jennifer Aniston? The list could be as long as a Russian novel.
The favourite car list is just as bad. If money were no object, a 1969-73 Ferrari 365 GTB/4 "Daytona" would be at the top of the lust list, (you can blame Dan Gurney and Brock Yates for that) followed closely by a particular couple of 426 Hemi powered rigs- a 1969 Charger RT/SE and a 1970 or 1971 Hemi 'Cuda.
After that, the list is still pretty long and varies depending on the day.
But, it's the real world here at the Greenwood ranch, and the reality is that my two favourite cars are the two Darts I've owned.
35 years ago this month, I acquired a 1970 Dart Swinger 340. It was pretty much the car I had sought out since getting my first full-time job. I forget the mileage on the odometer, but it was right around 80,000 and was packing a dead stock 340 with power steering, power discs, a factory tach, and the good old bench seat/stick combo.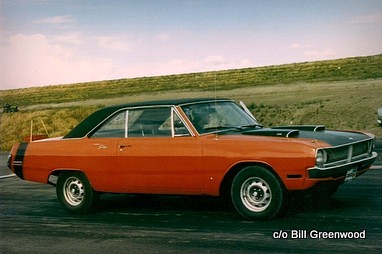 The color was V2 Hemi Orange with a black vinyl roof and flat black dual scoop hood, and the trade-mark Mopar Bumble Bee stripe. In spite of having the upgraded seat upholstery, the car was (probably inadvertently, given the power steering and brakes) ordered with no carpet.
My passion for Mopars, and Darts in particular, stems from the number of fast Mopes I had been closely familiar with in my formative years. A friend of my parents had a 1970 340 Dart for several years, and one of my high school buddies had a 1968 340 GTS that was instrumental in leading me to my wife. It helped that the somewhat "spare" styling of the Dart lent itself well to the jacked up, slot mag style of the day.
Admittedly, I had next to zero mechanical skills when I bought the Dart, which was not really the best position to be in when owning one of those cars. Most had lived hard lives, and even pristine ones were light years distant from the reliability that can be found in even 10 or 12 year old cars today with far greater mileage. Thus, I learned. Plus I learned how much I didn't know, even though I knew more about cars than probably any of the guys I had grown up with.
I learned how to install headers on a car with a clutch, for example. It took me three full days, with minimal tools and zero help. I learned how to change wheel studs, and stuff rags in the infamous a-body vents so you didn't freeze in the winter, and pennies in the vent window latches so they didn't whistle enough to drive you around the bend, and learned great respect for the autobody trade by helping to paint it in the summer of 1979.
Later on, I learned how to convert a 4-speed car to an automatic for bracket racing, and became quite adept at tweaking the notoriously complex Thermo-quad for the wildly varying air and track conditions that came with racing at Race City in Calgary. I did love that car, and it was part of us for 16 years.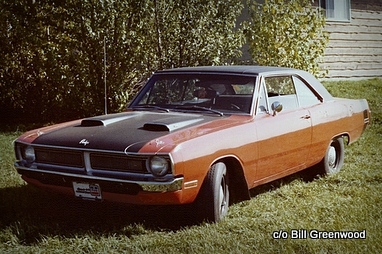 It went to an owner in Calgary who eventually got lost in the intricacies of the big black carburetor, and then on to another owner who scavenged the numbers matching 340 to build a 340 Swinger "clone". Yeah. Go figure.
But, I knew I would eventually have another race car, and that it probably be a Dart. I had held on to an old 360 block that I had acquired- a story in itself- that had come with some great internals. The block had been treated to some serious race-type machine work, and I had spent countless hours grinding and polishing the connecting rods, massaging the piston domes and machining the back sides of the pistons to reduce the weight. For the record, you can take almost two pounds out of the rotating mass if you are diligent.
Eventually, another Dart followed me home. This time it was a nearly rust-free 1969 hard top that had been originally born with a slant-six.
I did a lot of the work on this one myself, in spite of a lack of talent. I welded in the four-link brackets and the subframe connectors, built the back braced Ford 9-inch housing including rear discs with Camaro calipers and Grand Cherokee rotors.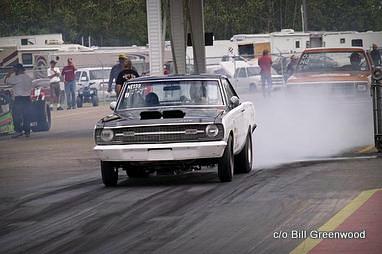 I devised an (I think) elegant housing floater to allow the car to sit on leaf springs with a well-functioning four-link. I learned how to replace ball joints and do a drag style wheel alignment and found out that a Wilwood disc brake conversion is one of the best designed automotive aftermarket products out there.
It's not a show piece, but it's mine. It's pretty much put together and looks the way I want it to. It's probably quite streetable, yet it's two full seconds and almost 20 mph faster in the quarter mile than my old 340 was.
It fits the proverbial drag bill of "hooks hard, goes straight", and in spite of many things, I love it as much as any man can love a machine".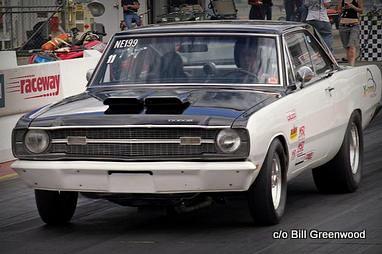 Bill works at Hotsy in Red Deer when he's not terrorizing non-Mopar guys in his beloved Dart.