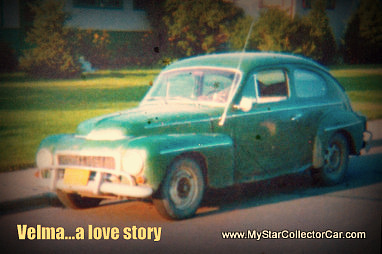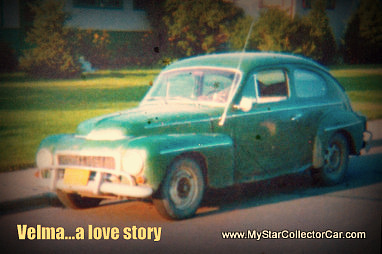 Every car guy has a favorite car from a distant past that combined youth with unchecked stupidity.
My favorite and now long departed car wasn't even from Detroit.
It was from Goteborg, Sweden and it was a black 1962 Volvo 544 named Velma that I inherited from my older brother in late 1972.
My brother Bruce named the car Velma shortly after he bought it in the spring of '69. Bruce worked out of town and left the car at my parents' place outside of town while he was gone on a job. My twin brother Jerry and I were in junior high at the time and were just old enough to be stupid enough to take huge chances with the car.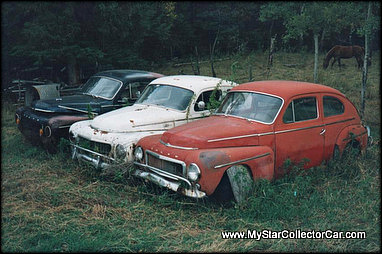 We would do some high-speed competition runs down the long and straight gravel road that ran in front of our place whenever our parents were gone from the house. The races were based upon an honor system that required a recorded high speed by each of us during each heat. The runs were done solo because we felt that our parents would understand our adolescent logic about still having one twin left in the event of a crash.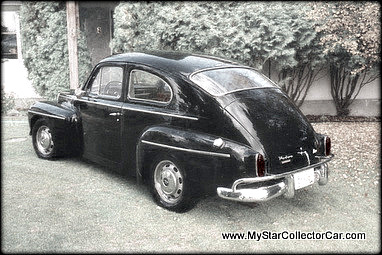 The high water mark was 95 mph (around 160 km/hr) on these speed runs; a major feat when one considers our 5 nanoseconds of high speed driving experience on any surface, let alone gravel.
The big trick was to decelerate very rapidly before we got back to the house so we could avoid any unpleasant encounters if our parents returned early-which they did one evening. Our Highway Patrol father was not real big on underage sons driving cars but, for some strange reason, he let the incident slide and pretended that he didn't see one of us driving into the driveway shortly before him.
My mother told us later that our Dad thought it was kind of funny, although he would have been the complete opposite of amused if he had seen what took place a few minutes earlier and a little further down the road in the other direction past the house.
The important part of the equation is that neither Jerry nor I was real brilliant when it came to that car when we around 14 and I was not a great deal smarter at 17 when Bruce gave me the car.
Bruce had tricked up the car with several engine mods and a custom British Racing Green paint job. Velma was now fast and furious by early 70s small car performance standards and could now climb well over 100 mph (160km/hr) with the right amount of stupidity. It would be fair to say that I had plenty of stupidity to spare when it came to Velma.
I drove the wheels off that car and survived many instances of insanity that should have cost me dearly in retrospect. Velma was a stunt car in the hands of a young idiot for all intents and purposes. There was no path too perilous and no speed too fast to get there when I was behind the wheel of that car. I drove Velma for a year without wipers when I discovered that high speeds in a downpour gave me a reasonably clear blurry windshield view of the rainy road.
The car had over 100,000 miles on it when my brother Bruce first bought it for the princely sum of $1000.00 in 1969 and that was a lot of coin for a 7-year-old high mileage car in those days. Velma had close to 400,000 very hard miles on it when I finally said goodbye to her in 1975.
The car was miled out in the truest sense of the word. It had been though the grinder under the misguidance of my brother Bruce and me so it accumulated considerable wear and tear along the way.
The car had completely exploded brake drums, u-joints and clutches while I was driving Velma at high speed in each separate misadventure. Once I even broke the shifter. Both the intake and exhaust manifolds had broken on it, while the front end completely collapsed on the driver's side during one memorable incident while driving down the road.
Velma had been flipped on a highway and managed to land back on its wheels early in its adventures with Bruce. It was a miracle that the car ended up with only one small dent in it to mark the occasion in that incident.
However Velma routinely saw a lot of air time at one train crossing where I was able to mimic the Bullitt chase sequence and easily bring all four wheels off the ground every time I doubled the speed limit on that road.
The final act of stupidity was a 1975 incident when I tried to drive Velma through a flooded underpass and was about halfway through when I got impatient and gunned it. Velma stalled and suddenly I was waist deep in water. A tow truck got me out of the water and I was cocky because I was on the road about 20 minutes later after the engine dried enough to fire up for me.
The cumulative effects of hundreds of thousands of hellish miles combined with that highly ill advised bath were too much for Velma and two months later we parted company. The car was traded in for a Datsun truck and my last memory of the car was a frightened salesman who failed to heed my warning about how to drive Velma. The guy blew through a couple of stop signs before he realized that he didn't know how to drive this worn-out shadow of its former self, even though he was a cocky former rally driver and told me that he knew how to drive anything.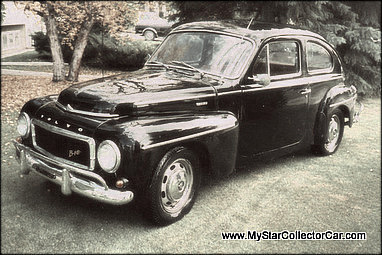 Velma was a crazy little car that was a big part of a very crazy phase in my life and I will always consider her to be that one special car found in every car guy's life. Later in the 90s I had an instant flood of emotions when I drove past a place that had a little green 544 Volvo peeking out of the trees and realized that no other Volvo had that custom paint scheme except Velma.
I got that sudden flush of excitement and nostalgia found when you run into an old flame later in life and I almost u-turned around to see if it was indeed Velma. But I decided to wait two weeks and was actually relieved but a little sad to see the car was gone from the country property. I didn't even stop to ask the owner about the car's whereabouts or whether it was Velma.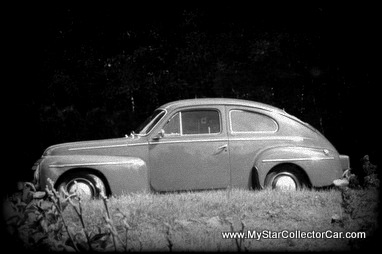 Some relationships are better left in the past as fond memories.
Jim Sutherland