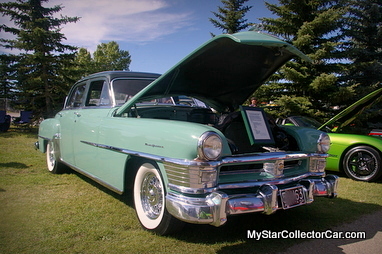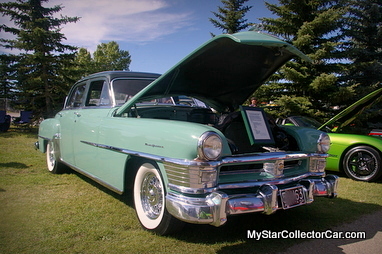 The fastest production car in America in 1952 was the Chrysler New Yorker, according to the current owner of one of them, John Barrett.
His New Yorker's previous owner was a little old lady from Mt Vernon, Oregon and John discovered the car behind a service station there back in 1981.
The New Yorker had 83,721 miles on it when John bought it in '81 and it was obvious the car had been well maintained by the woman during her long run as owner of the big Mopar.
The only real issue was a little roof damage on the back of the car. John tackled the repair himself and "made a point of not painting any more than I had to" in his words. The real appeal of the car was its originality and John wanted to preserve that element in the New Yorker. He even left the little old lady's hat pin in the headliner.
His New Yorker is a full-load car with Imperial running gear with a 331 Hemi engine that gave the New Yorker a tag line as "the car you can't hear running" in 1952, according to John. It also had a padded dash in an era when cars had skull-crushing metal dashes and no seatbelts.
The New Yorker also has power windows and a 7 push button tube radio to take it to the front of the luxury car pack in '52. These two features may seem tame in 2013, but they were a big ticket item when they were offered to new car buyers in the early 50s.
Car buyers were very cost conscious in 1952 and few of them purchased extras for their new cars because the real investment was found in the enormous number of kids born after the war. Maybe they did not practice planned parenthood, but they were very conscientious about planned purchases-and cars with power windows were way down the list.
One thing was very clear: John loves everything about his 1952 Chrysler New Yorker. He has put on about 5000 miles on the car since 1981 and even drove it to work for a brief time before he devoted his spare time to make the repairs on the car.
He loves to get out on the road and says the car is very comfortable at 65 mph because "Hemi makes power", in John's words. He also says the back seat is "like a limo" because of the massive legroom available to rear passengers in the New Yorker. The entire car interior has a plush and comfortable feel to it and we suspect a road trip in this big Chrysler would be pure fun on wheels.
John showed us a unique 50s Chrysler feature that made a lot of sense: an angled block of wood called a "chock block". The chock block was used behind a wheel to prevent the car from rolling away when it is jacked up for a tire change or repairs and it was a smart idea.
We enjoyed our time with John for his interview about his New Yorker and would only add a small request for a ride in the car during any future interviews.
Jim Sutherland