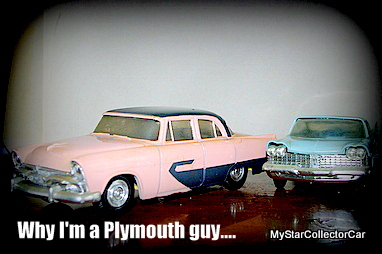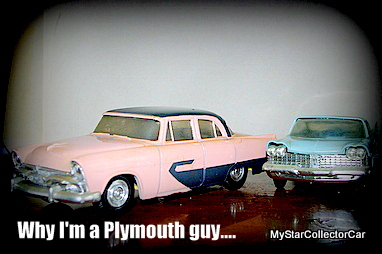 Many of us received our car guy genes from our fathers.
They were the first super-heroes in our childhood lives and they remained the most enduring super-heroes throughout our adult lives.
Their influence on us could be measured by many parameters, including our brand loyalties.
One of the major brand loyalties is our car choices and many car guys make their collector car choices based upon the cars driven by their fathers in a bygone era.
The earliest car I can recall is my father's 1956 Plymouth, possibly because it showed up as a star in our earliest family home movies, possibly because it was half pink and half charcoal grey in the best tradition of 1950s power colors on cars; or most likely because of an incident when I was 5 years old.
My twin brother Jerry, a neighborhood kid, and I hiked into town to attempt an exchange of funny money (Monopoly money) for candy at a small grocery store. We weren't a trio of geniuses that day, but the second store clerk actually gave us candy for the Monopoly money because he thought it was pretty funny.
The trip into town had taken its toll because we had traveled a few miles, including down one hill and up another steep gravel hill on the way home.
We got about half way up the second hill before we could go no further until we spotted my father's pink and gray Plymouth at the bottom of the hill.
The story had a happy ending because we were found, but the repercussions were pretty severe that day. We were not exactly happy to see the car that day under those conditions, but we were relieved about the end of a very long hike for five-year-olds. I will always remember that car for that day.
My father bought a 1959 Plymouth to replace the '56 and my best memory of the car was the trail of dust behind the car when he rocketed down unpaved roads in it. It would be safe to say the '59 Plymouth linked me forever with fins on cars and the rides in my father's winged chariot.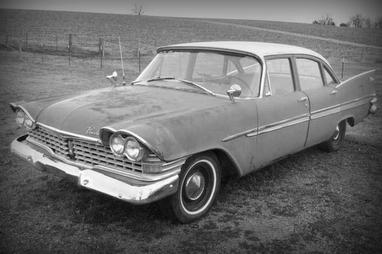 His next car was a 1960 Dodge and it seemed as if he defected to a rival when he purchased this Mopar cousin of Plymouth. I was very brand specific as a kid and a Dodge was not a Plymouth to me. My father had always driven Plymouths in my short life and a Dodge was a completely different direction for me.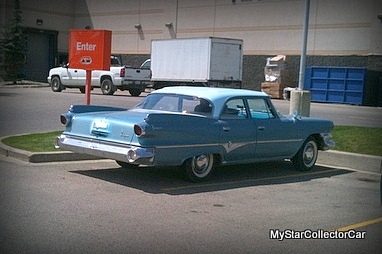 My father went back to Plymouth with his next car, a 1963 Belvedere, and the world became less crazy for me.
The '63 was followed by his first brand new car, a modest 1966 Plymouth Belvedere four-door sedan he owned until the early 70s when he dropped down a size and bought a Dodge Dart.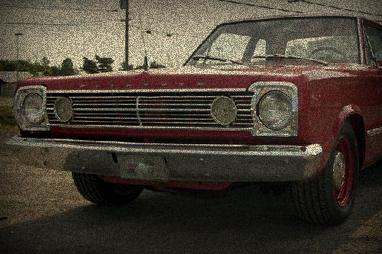 Happily, by this point, I was a teenaged car guy with a broader view of the car culture, so the idea of a Dodge instead of a Plymouth was OK with me.
I had branched out and was impressed with most of the Big Three muscle cars from Motown, regardless of their make, color or my Plymouth creed at that point.
However I will always have a soft spot for the dearly departed Plymouth models from my childhood thanks to my Dad.
Jim Sutherland