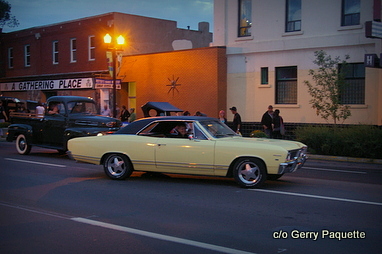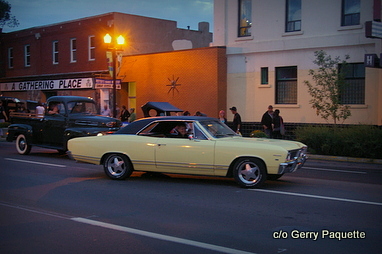 Gerry Paquette is the ultimate Pontiac car guy.
He's a parts catalog on two legs when he's at a show and he applies the the same attention to detail as a parts manager.
Gerry's fondness for all things Poncho goes back several decades but he has a particular fondness for Canadian cars like the Beaumont, so he's the proud owner of a '67 Pontiac Beaumont.
Canadians are well aware of the Beaumonts because they were the equivalent of the Chevelle and they were a very popular alternative to their Chevy cousins.
Gerry explained his attachment to these unique cars, "My love for Beaumonts dates back to Dec of 1966 when I purchased a brand new white-with-a-blue-interior Beaumont 2dr custom 327 4sp bench seat car, off the truck, I was living in northern Saskatchewan at the time and have a lot of memories from that time, some good some bad but I choose to only remember the good ones therefore my passion to own another 67 Beaumont, but being young and foolish I had to sell it and as life goes on, marriage kids etc! finally in 2003 is when I purchased the blue one, which is quite a story in itself".
Gerry had been through a few Beaumont relationships after his first one, "I already had a 1967 Beamont that I'd had for 3 years but it was time to redo it or buy something else. While I owned the blue 67, I had found a Beaumont site called Classic Canadian Beaumonts formerly Kens Klassic Kars that is no longer operational and from there I had purchased a couple of consoles from a Tom Curran and after the Super Run 2006 in Red Deer-that's when I decided to look or fix the blue one".
Gerry's yellow '67 Beaumont nearly fell into his lap,"Tom had put an ad on the site for Daryl saying that a friend of his was selling his '67 Beaumont and listed the options. I sent Tom an email telling him that I might be interested and if he gave his buddy my email address I would love to look at it".
The hook was set immediately but Gerry was up against logistics,"The next day Daryl sent me the story on the car with a bunch of pictures and I was hooked, but my problem was I am in Red Deer and he's in Port Alberni, Sept and Oct is a very busy time of the year for me so how was not the problem but when was I going to get out there to have a look before buying".
The car gods were smiling on Gerry, "I showed the pictures to one of our mechanics and when he found out it was in Port he told me that wasn't a problem because he was going to the island the next week and he would go and inspect the car and if it was good he would bring it back for me. Garnett went and looked at the car and phoned me and told me it was a very nice car and my response was, 'I hope so because I already sent Daryl the money".
The puzzle came together fast, "We rented a trailer out of Nanaimo, they loaded it up and Garnett brought it back to me, I am forever grateful to him for that.The odometer read 166,295 when I purchased it from Daryl and now has 170,600 miles".
Gerry's career revolves around detail so he is well-acquainted with the history of his '67 Beaumont, "This 1967 Beaumont Custom was purchased by Tom Harding from Trapp Motors Ltd in New Westminster BC. From the records that I have Mr Hardman drove the car for 157316 miles when there was an engine rebuilt done Nov of 1984 by Dave's Auto Repair in Langley BC".
Gerry is an expert so the details laid out for him,"The original engine was not rebuildable so Mr Harding found a replacement 327 block ( I decoded it and it's a 1969 big journal 327). Also in 1984 Mr Harding bought 2 new GM fenders but according to the records the body and complete paint job was done late Jan 1990 at 162204 miles by Sunshine Auto Body in Langley BC. This is still the same paint job today".
The paper trail is almost perfect, "Tom Harding kept a little book of records for all the work that was done on the car and according to his records the vinyl roof was replaced in 1992 but I do not have that invoice".
The back story for the car is like a script for a TV show, "The story that I have from Daryl was that the car sat in Mr Harding's Rec Room for about 15 years which I would love to verify. Denise Gronlund, Tom Harding's daughter according to the story had to knock a wall down to remove the car from the rec room. The phone number I had for Denise is no longer in service and I have Googled it but to no avail".
The reason for the sale was pretty basic but it does have a little Hollywood flair,"Daryl's story is that Denise Gronlund married her daughter in the car (the yellow pompom is still hanging from the mirror) and the newlyweds were moving to an island that did not require an automobile so she put it up for sale, but first offered it to Jay Leno I do have that letter, but although he was aware of Beaumonts he didn't have an interest in it at that time.My quest to find Denise Gronlund shall continue so I can get the rest of the story".
Gerry was the final actor in the story, "Daryl Auger bought the car from Denise Gronlund but due to circumstances in Port Alberni he had to sell it".
Gerry's a meticulous guy but the Poncho has been very easy to maintain,"I have done very little to the car except some mechanical work, replaced the upper ball control arm shaft and bushings. Added a r/h rear view mirror and reinstalled an original equipment mirror on the left hand side and had the hole made by a jobber mirror filled in and he did a superb job, you can't even tell and like I mentioned before the paint job was done in 1990".
He's added a few more options to stake his name on the car, "I've also added a rear speaker with reverb and a rear window defogger because I had those in my original 67. Although I did not have bumper guards on my original I've added the front ones, OEM GM and I'm in the process of adding the rear bumper guards".
This Beaumont is far from a trailer queen, "I drive the car as often as I can when the weather in nice, and hardly miss the Thursday night get together, that is a wonderful thing that Dave has done and it's a privilege to be able to attend".
Road trips are part of the program for Gerry and they do add to the old car adventure ,"The first long trip that the car took after I owned it was to Radium in September 2009, that was a lot of fun except my alternator quit charging. I had modified it to an internal regulator just before the trip and after we stopped for lunch in Canmore, filled up with gas and hit the highway again my gen light came on but being a good old car all it needs is a good battery and hope the alternator doesn't seize up (not like the newer ones no alt –no power- no go) we can carry on".
Gerry took a little heat from his car buddies,"We stopped at a site where there was beautiful water falls (can't remember the name of it), the only problem I run into is when I mentioned it to the crew I was with, my Ford buddy had a hay day but we made it to Radium with no problem, the only thing is I had to go and purchase a NAPA alternator, what a blow".
Gerry has modest, but realistic goals for the Poncho, "I want to keep the car as original as possible although I want to add disc brakes to the front because in this day and age we need some good whoa when driving in this and any other city. The car is what it is and I would like to keep it that way. I get a lot of good positive feedback on the car, like Man that's a nice car, where does it come from etc etc. As far as this car it's a lifer unless I find my original car then it would be open for debate maybe".
That statement underscores how Gerry is the eternal optimist so he's still holding our hope for a reunion with his beloved car, "I am still looking for my original car of which I have the serial # and GM Documentation, and if anyone can help me out with that one it would be super".
Gerry is a typical car guy so there's always more room for an addition to the family so he ends the story on a familiar note.
"I just need one more car besides this one and that's a 1964 Pontiac Custom Sport convertible 327 Powerglide just because…"
Jerry Sutherland