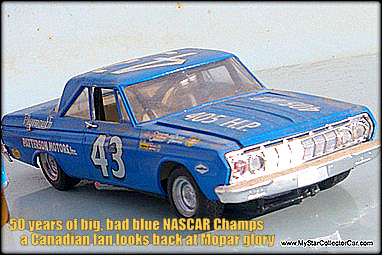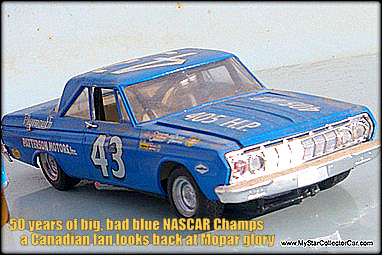 I grew up in Red Deer, Alberta Canada and I've been a NASCAR fan since 1964 when I was 9 years old.
Red Deer is a city that was so far removed from NASCAR in '64 it could have been located in Peru.
To put this in perspective, a NASCAR fan in Red Deer Alberta 49 years ago was like a guy in Miami being an avid curling fan or a Ugandan being a big NHL fan.
There was only one reason why I was a Canadian kid with a passionate interest in NASCAR—a big, bad, blue 1964 Plymouth.
That's why Brad Keselowski's big, bad, blue #2 Dodge was a life-reaffirming moment in 2012.
Richard Petty drove that Hemi-powered monster Plymouth to his first championship in '64 and suddenly a 9-year-old Canadian kid had a new hero who wasn't on skates. Unfortunately that same hero had to sit out the '65 season because Ford started whining about the 426 Hemi. I guess they didn't liked getting slapped around every weekend on the track but that was small consolation to a kid with limited life experience and zero patience.
The King brought it home in a big way when NASCAR let the hemis run again and I never got tired of seeing pictures of Petty hunched over the wheel of an electric blue Belvedere. He had an unusual driving style but he eviscerated the competition in '67 and at no point did my adolescent self want the schoolyard "uncle-I give" rule to apply. I wanted the King to keep twisting arms on the playground.
We had very limited NASCAR coverage in Canada. Newspapers didn't cover the sport in an area where hockey blankets the psyche of the average Canadian but I couldn't name 5 NHL hockey players in a 6-team league back in the 60s. But I could tell you every detail about guys like LeeRoy Yarbrough, David Pearson, Fred Lorenzon or Marvin Panch. Information was hard to come by thanks to the NHL information embargo on NASCAR but I found it in magazines like Hot Rod with their "Roundy Round" corner.
I came by the devotion to Plymouth and Dodge naturally because my Dad drove them on the job as a member of the Alberta Highway Patrol. They used their own cars back in the infancy of the organization and he always picked Plymouths or Dodges. He liked two things about them—their top speed and their ability to handle at top speed.
Those were the pre-bubble wrap days when kids could ride on high-speed chases and occasionally my brother Jim and I were lucky enough to be with Dad when he chased a guy down. Richard Petty was my second Mopar hero. My Dad was the first one.
That's why 1969 was such a crushing blow. Petty went rogue, joined Ford and the world made a lot less sense. I actually hated my oldest brother Stu for two weeks after he gleefully delivered the news. Doubt turned into anger when the news was confirmed.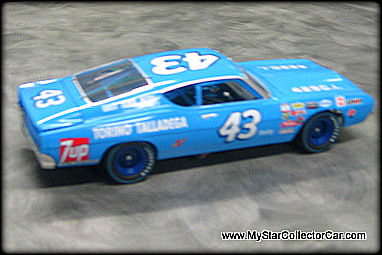 The Super Bird took away all the pain in 1970 but the competition started whining again so the hemi became a casualty once again when they outlawed them in the Birds.
'
The 70s were heady years for Petty even with the switch to Dodge but eventually time ran out for Petty Enterprises and he went GM. By that time I started to understand the business behind NASCAR and this time I forgave the King but I only wanted Buddy Arrington to win because of his unswerving loyalty to Chrysler until 1985.
Eventually Buddy had to cave in when the Imperial was too old and NASCAR distilled down to Ford and GM. I hoped for the King because the dedication that a 10-year-old kid gives a hero is for life so the #43 will always be a favorite. He brought the last NASCAR Championship home to MOPAR 37 years ago in a '75 Charger.
But it will never be the same "live and die" commitment.
Fast forward to Sunday's Sprint Cup Championship. Brad Keselowski's run is one for the ages in my middle-aged world. He was the Lone Ranger against many, he had nerves of steel, a will to win and best of all, Keselowski did it in a blue Mopar. We all love "underdog wins" stories because they happen so rarely in sports and in real life.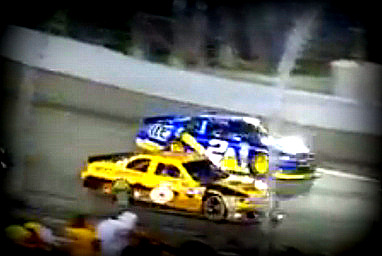 This win took me back to those heady days of being nine years old…to a time when NASCAR was the biggest thing in my life, a guy named Richard Petty became a hero and life was extremely simple. For that I thank the team behind the Blue Deuce for reacquainting me with a priceless moment in time...it was magic.
Chrysler is out of NASCAR after this Sprint Cup Championship and for this Canadian guy who bleeds Mopar, it's a bittersweet ending. Part of me says, "go out on top" with style and class like the Beatles but my deeply rooted Mopar alter ego says seek and destroy the competition for years to come. Bring back the same fear that Ford had for the electric blue Plymouths back in the 60s.
The fear that made a Canadian kid a NASCAR fan in the heartland of hockey.
Jerry Sutherland